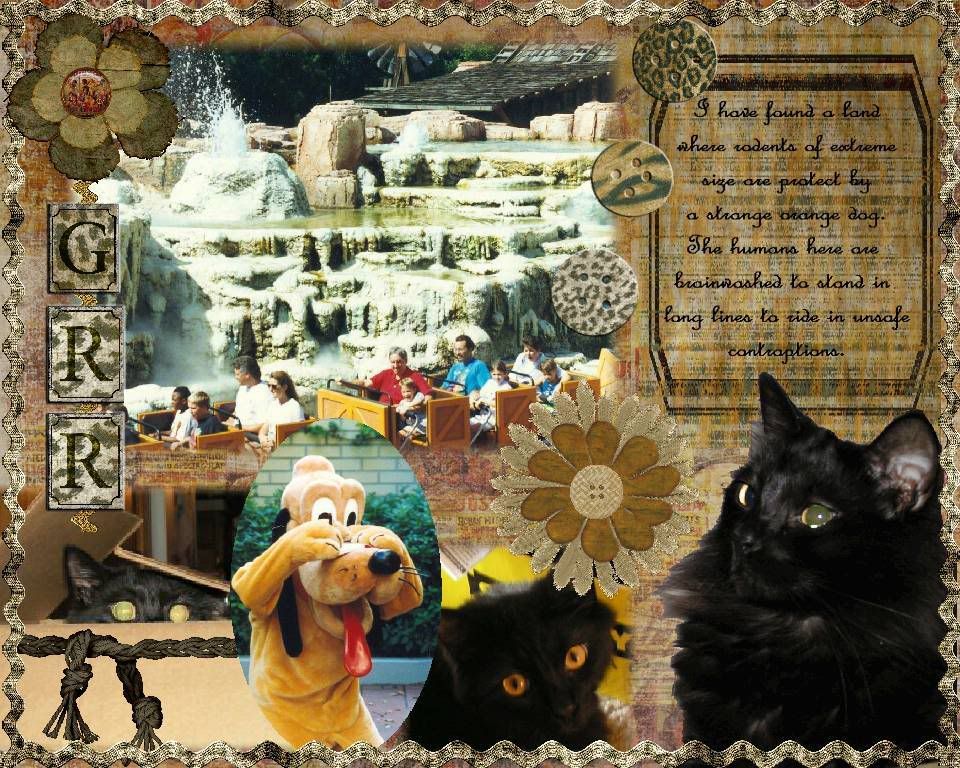 Click the image to Bigify it. Image Info.
Grr's Great Adventure (Part II)
After leaving the edge of the world, Grr goes south, following the directions provided to her by El Cheapo Travel. She does not find the beach though - ending up a very strange land that is inhabited by Rodents of Extreme Size. While this might seem a cat's playground, these rodents are protected by a strange orange dog.
Furthermore is seems the rodents have brainwashed the humans to stand in very long lines in order to ride on unsafe contraptions. And yes, there is lots of water, but not a grain of sand in sight.
Taking cover in a cardboard box, Grr ponders what she's going to do next...
Thursday's Events at Cat Blogosphere
Thursday Thirteen, da big meme, aka TT or T13
Thankful Thursday
Thoughtful Thursday
A falling cat always lands on its feet
This is not always true. When cats falls short distances, we often twist ourself around to right ourselves and land on our feet. If the distance is too short, we will not have the room to do this.
When falling from a great distance, we will flatten our bodies out in the air to increase drag and slow our descent. However, falls from heights can still cause severe injury or death.
A window without a screen or with an insecurely fastened screen is a life-threatening hazard. Other accidents happen when an air conditioner is removed from the window for cleaning or repair. Balconies are also a danger. A cat may fall from a balcony rail if we are not playing attention while chasing an insect.
And remember, if you have a been an indoor cat all your life, even if you land safely, you might be injured by dangers you are not familiar with in the outdoor environment.
Have your caretaker securely fasten screens and remain alert to other high-rise dangers help prevent serious injuries resulting from falls.
Win a FURminator!
If you haven't been FURminated yet, you don't know what your missing. It gets all the extra loose hair out of your coat, gets all the itchy places scratched good AND makes your coat incredibly soft and silky.
PetsitUSA.com is giving away a FURminator. Two FURminator packages will go to cats and two to dogs.
Visit their contest page to find out how to sign up!
Good luck and happy deShedding! Contest ends
tomorrow
(April 11th), so don't delay!
Want to join House Panthers? Our membership is open to members of the black, grey (Russian Blue) and dark brown (Bombay) clans. Ask Not the Mama to e-mail you an invitation!
Don't Forget! Monday is Midnight Monday here at House Panthers! Show off your beautiful black coat!
Find a new friend at Petfinder.com, the temporary home of 245,845 adoptable pets from 11,827 adoption groups. Over 9,000 house panthers are available around the country!