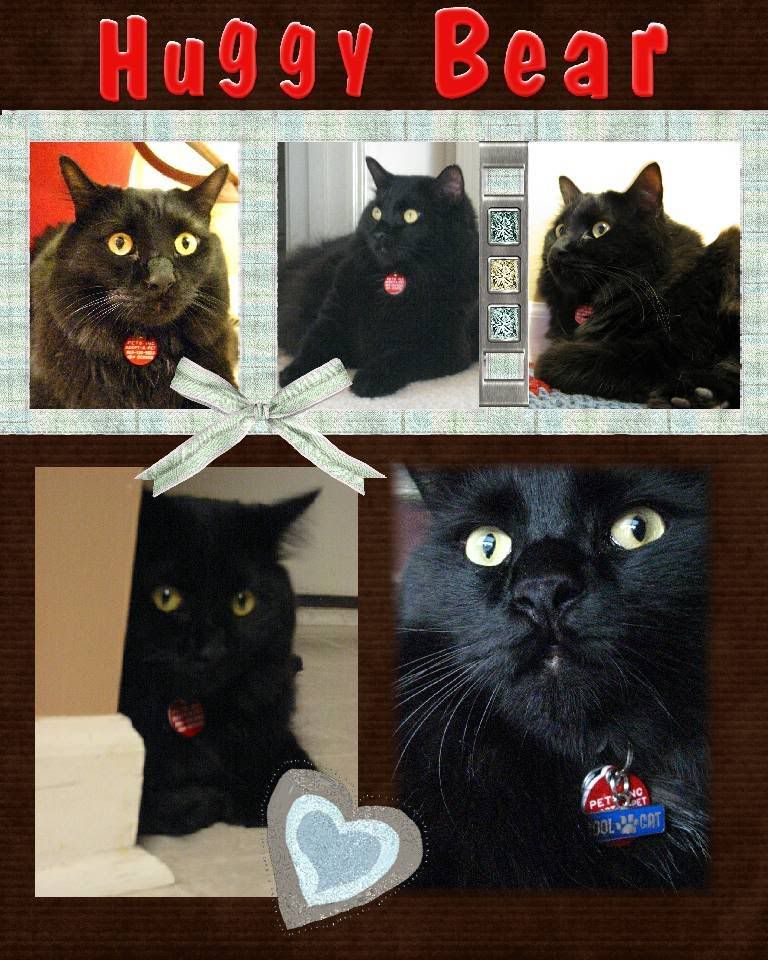 Click on image to bigify. Image Info..
Geez....trying to find a feral/foster this week was a bit of a problem. Everyone I have on tap did not qualify (as far as I know).
Huggy Bear was part of a litter of four that was rescued from a feral existence in November of 2004. He went through several named - Bullet, Baby Bear - before they settled on Huggy Bear. He was put out for adoption like the rest of the siblings, but when he was not picked it become too much for Jasper's family and they brought him home from Pets, Inc.
Three and a half years later, he's turned into quite the fellow.
You can find out more about Huggy at
Jasper McKitten Cat
's blog.
Friday's Events at Cat Blogosphere
Hey you guys, it's Feline Friday!
Foster Friday started by Kat's Cat of the Day
Formerly Feral Friday for all formerly feral kitties
Finally Friday started by Gandalf & Grayson
Frootbat Friday for cats to show off their big ears
and it's Fashion Friday for our furry fashion diva furriends!
Board the Friday Ark at The Modulator
(submit your post here)
Weekend Catblogging!

Find Weekend Cat Blogging #149 (Apr. 12-13) is being held at the Cat Blogspher with A Byootaful Life, HotMBC and Kashim and Othello.

Bad Kitty Cats Festival of Chaos #40 (04-13-2008) with Astrid, Kashim, & Othello at The Catboys Realm.
Optional Theme - TBD
(submit your post here)
The Carnival of the Cats #213 (4/13/08) is being hosted by Mr Tigger at the M-Cats Club
(submit your post here)
(Only two more weeks and it's our turn!)
Join Photohunters on Saturday. This week's theme is "twist(ed)".
CATS EYES
We cats have excellent vision, of course, and can see an ant at a distance of six meters(!). While looking straight ahead we can also see sideways in an angle of 45 degrees, but only 2-dimensional.
In pitch-darkness our eyes become more like a kind of ears: the pupils actually pick up acoustic vibrations.
Our nose has 17 million nerve cells, which we uses to trace all smells/aromas in our environment. Even the food we eat is chosen by the smell.
A cat who has a cold, doesn't eat because he isn't hungry, but because he can't smell the food.
In Comparison: a dog's nose has 147 million nerve cells; humans have 'only' 5 million nerve cells in their noses.
Note:
I still have to clean up the contributers' section, but I know of a number of Panthers out there that aren't contributing members. So in talking to Not the Mama, we've come up with a new section called "Honorary Members". These are Panthers that we know and love on the Blogosphere, but which, for whatever reason, choose not to accept an invitation as a contributor.
Contributing members will now be called FULL members. I hope to generate a bit more interest in the group this way. This also opens up the club to Panthers on Catster that do not wish to get Blogger addresses, but which would still like to belong to the group and display our badge on their page.
If you know of any Panthers that should be added to our list of Honorary Members, please drop me an e-mail and let me know!
Want to join House Panthers? Our membership is open to members of the black, grey (Russian Blue) and dark brown (Bombay) clans. Ask Not the Mama to e-mail you an invitation!
Don't Forget! Monday is Midnight Monday here at House Panthers! Show off your beautiful black coat!
Find a new friend at Petfinder.com, the temporary home of 245,845 adoptable pets from 11,827 adoption groups. Over 9,000 house panthers are available around the country!