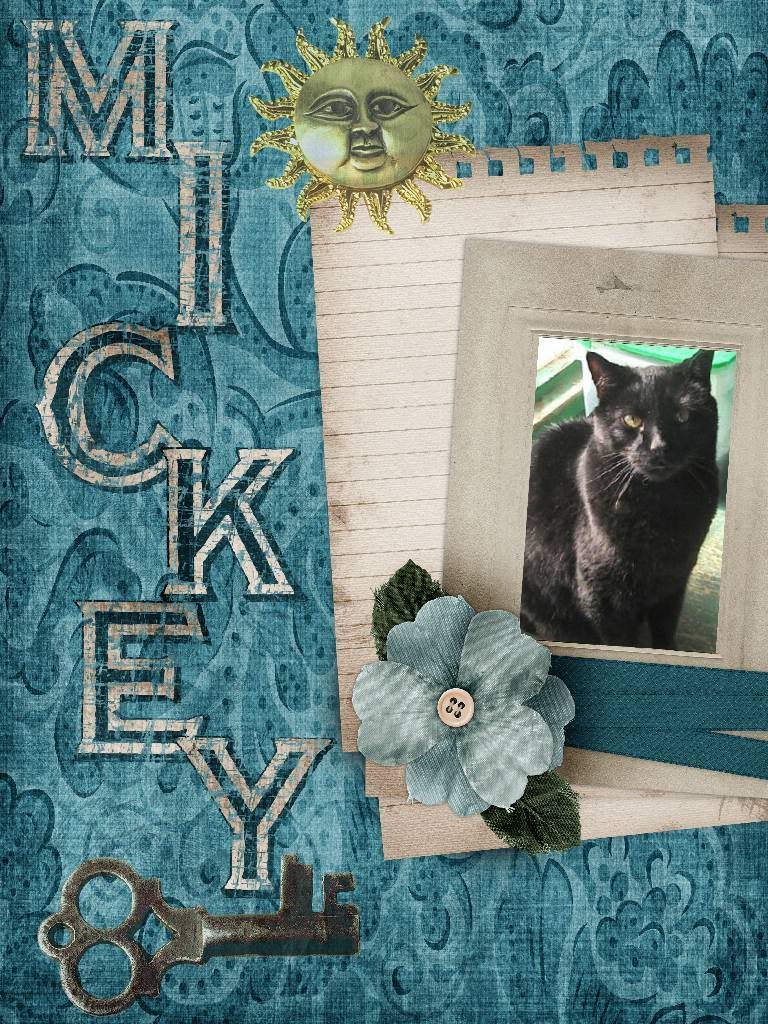 Click on the image to bigify it. Image Info
Mickey is one of the nicest cats on Cat Blogosphere. This was a quick page kit that I got from
Digital Scrapbook Freebies
. The composition was done in PhotoSuite, with additional elements added from there. Mickey is going on 15, so the whole composition is intended to look a little faded.
Mickey lives in Nova Scotia, Canada with his sisters
Tillie
and Georgia. He blogs at
Mickey's Musings
. At 14-years-old, he likes nothing better than to sit in the sun and dream of his Miss Peach.
Mickey was previously featured on House Panthers on March 5th, 2008.
Saturday's Events at Cat Blogosphere
Saturday is Caturday with the cats at Coats of Many Colors.
It's also Photo Hunt day. This week's theme is "Glass".
Weekend Catblogging!

Find Weekend Cat Blogging #149 (Apr. 12-13) is being held at the Cat Blogspher with A Byootaful Life, HotMBC and Kashim and Othello.

Bad Kitty Cats Festival of Chaos #40 (04-13-2008) with Astrid, Kashim, & Othello at The Catboys Realm.
Optional Theme - TBD
(submit your post here)
The Carnival of the Cats #213 (4/13/08) is being hosted by Mr Tigger at the M-Cats Club
(submit your post here)
(Only two more weeks and it's our turn! WOOT!)
Join Photohunters on Saturday. This week's theme is "twist(ed)".
The Creation Myth
On the first day of creation, God created the cat.
On the second day, God created man to serve the cat.
On the third day, God created all the animals of the earth to serve as potential food for the cat.
On the fourth day, God created honest toil so that man could labor for the good of the cat.
On the fifth day, God created the sparkle ball so that the cat might or might not play with it.
On the sixth day, God created veterinary science to keep the cat healthy and the man broke.
On the seventh day, God tried to rest, but he had to scoop the litter box.
(Actually, I don't know how it is in your household, but the seventh day is laundry day here, in which God decreed the humans should provide the cat with warm laundry to lay in.)
Want to join House Panthers? Our membership is open to members of the black, grey (Russian Blue) and dark brown (Bombay) clans. Ask Not the Mama to e-mail you an invitation!
Don't Forget! Monday is Midnight Monday here at House Panthers! Show off your beautiful black coat!
Tuesday is Black Tabby Tuesday for all you black tabbies out there, Wednesday is Blue Wednesday for our Russian Blue members,Thursday is Grrday, and Friday is Formerly Feral or Foster Friday.
Find a new friend at Petfinder.com, the temporary home of 245,845 adoptable pets from 11,827 adoption groups. Over 9,000 house panthers are available around the country!