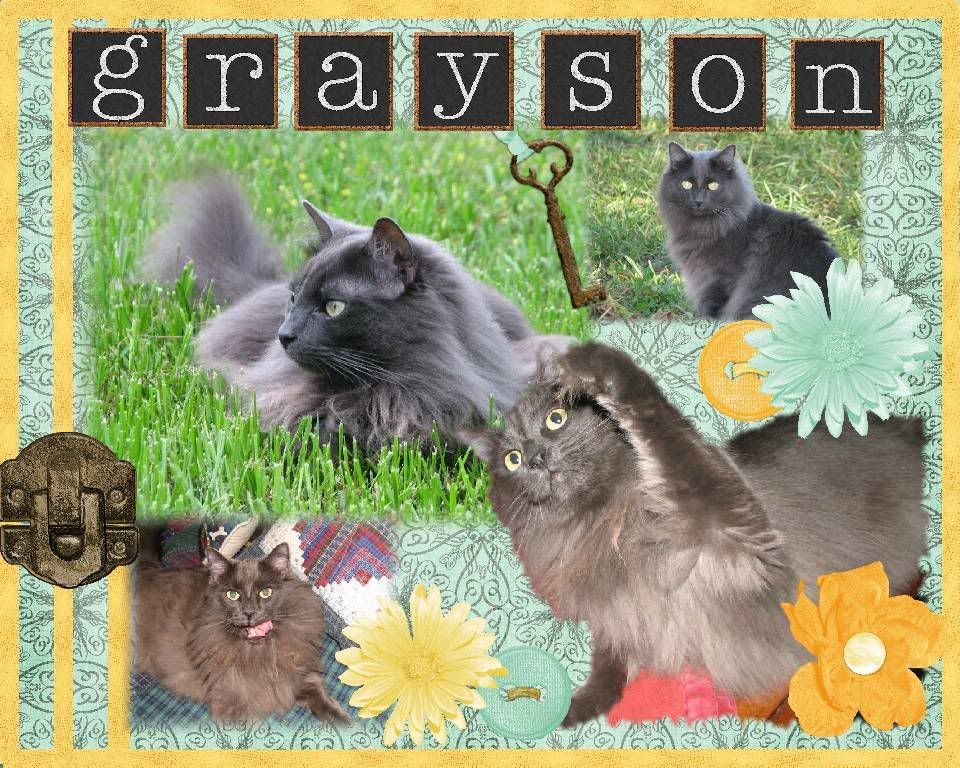 Click the image to bigify it. Image Info.
Grayson is a 4-year-old Domestic Long Hair. He was about a year old when he was abandoned at the doorstep of a County Vet. They took him and placed in a cage in the waiting room. Grayson's Mom had a friend at the vet's office that had brought her a tiny little kitten. She was going to adopt another kitten to go with it, but she saw Grayson and it was love at first sight.
So Grayson went home with the little kitten, who would become his best buddy, Gandolf.
There was some miscommunication as to his his status as a mancat, and was originally named Gracie after Gracie Allen. When the truth was discovered his name was adjusted accordingly.
Grayson is particularly fond of humans. He checks out the closets to make sure nothing is hiding in them. He loves bothering his Grandma and Grandpa, especially if they have whipped cream. They also love Temptations and get their treats on the kitty condo.
Gandolf and Grayson are back at blogger now at
It's All About Meow
.
Wednesday's Events at Cat Blogosphere
White Wednesday for all Whitesters!
Whisker Wednesday … show off your whiskers.
Wordless Wednesday or Wordy Wednesday, you decide.
Wednesday is Gingersday too for all Gorgeous Gingers.
Way back Wednesday, for those who have come before.
Weird Wednesday for all sorts of strangeness.
Wondering Wednesday, to ask, or answer questions.
Here at House Panthers, it's Blue Wednesday for all our Russian Blue Members!
Grow your Own!
Wheat grass is a safe and convenient source of enjoyment for cats. We enjoy the succulent taste of the grass. You can grow wheat grass in a sunny window sill and graze to your hearts delight.
Remember, however, that some house plants are toxic to cats. Hopefully, your humans do not keep these where you can get at them, as we might be attracted to these plants as well.
If you enjoys catnip, you might consider growing your own as well. It's easy! To plant outdoors, sow seeds in a sunny location in the early spring. Seeds are available in most garden stores or mail-order catalogs. Catnip will grow back again next year if the winter is not too harsh.
This will make a supervised trip outside a very special treat for a house panther!
Win a FURminator!
If you haven't been FURminated yet, you don't know what your missing. It gets all the extra loose hair out of your coat, gets all the itchy places scratched good AND makes your coat incredibly soft and silky.
PetsitUSA.com is giving away a FURminator. Two FURminator packages will go to cats and two to dogs.
Visit their contest page to find out how to sign up!
Good luck and happy deShedding! Contest ends Friday, April 11th, so don't delay!
Want to join House Panthers? Our membership is open to members of the black, grey (Russian Blue) and dark brown (Bombay) clans. Ask Not the Mama to e-mail you an invitation!
Find a new friend at Petfinder.com, the temporary home of 245,845 adoptable pets from 11,827 adoption groups. Over 9,000 house panthers are available around the country!