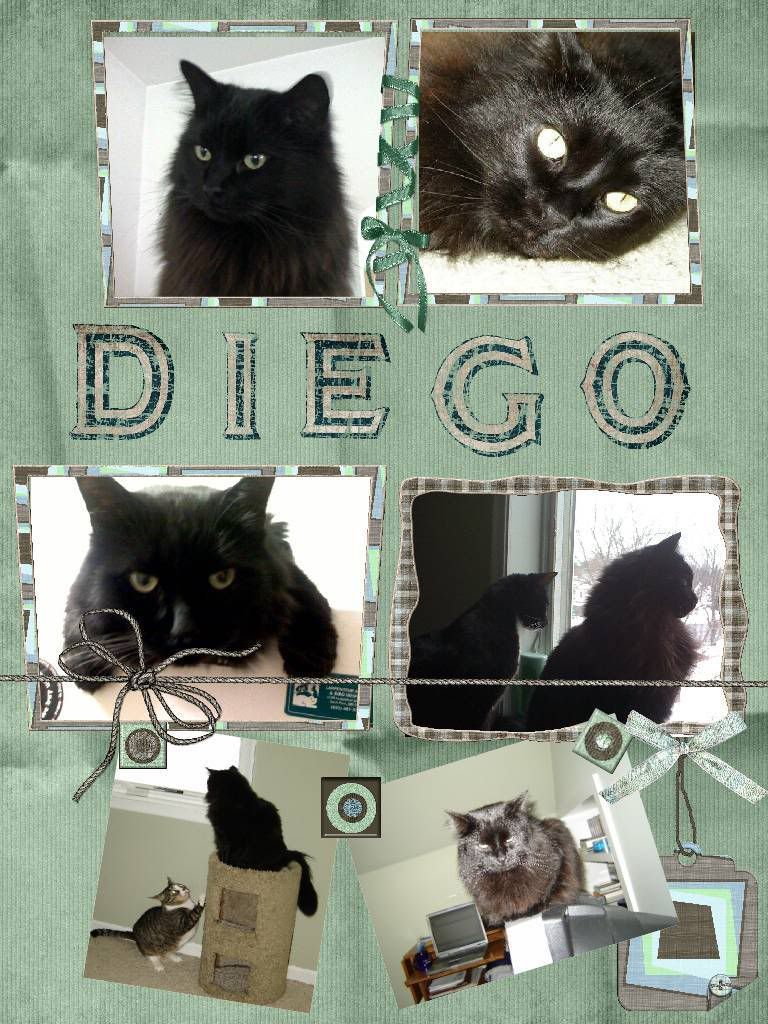 Click on image to bigify it. Image Info.
Diego was named after the painter Diego Rivera and is the Alpha Cat over at
Cat's Eye
. He also seems to think he should be a TV star because you can catch him sitting on the TV in many of the photos on their blog.
When Diego was first brought into the vet they thought he was a female cat and his name was Nicole. After his "operation" he was renamed. D-Man added the "san" because he wanted him to sound more Asian. He is sometimes called 'the big fella' because he looks much bigger than the other two (although in fact Thompson weighs more... Diego is just fluffier).
Diego was featured on House Panthers on
February 23, 2008
, one of the first so featured since the blog was upgraded to include daily informational postings.
Monday's Events at Cat Blogosphere
Midnight Monday:
Come on House Panthers, show us your petty black furs!
***
It's Meezer Monday for all Meezers with Simply Siamese
Mancat Monday for all ferocious Mancats and mancats-in-training
Movie Monday for our Feline Fellini Furriends
Very Superstitious
Black cats are considered very unlucky in the European and European-American traditions. Among Anglo-Saxons and Scandinavian people, it is said that if one sets out on a trip and a black cat crosses the road ahead, The only safe course of action is to turn back and return home. Tales of shape-shifting black cats and black cats who are in communication with the Devil are also a feature of European folk-belief. Concommitant with these negative feelings about black cats is the notion that they are particularly favoured as witches'-- hence they are always used on Halloween decorations throughout the world.
But not all supersitions regarding black cats are bad. Here are some feline superstitions from around the world:
Dreaming of white cat means good luck.
- American superstition
To see a white cat on the road is lucky.
- American superstition
It is bad luck to see a white cat at night.
- American superstition
If a cat washes behind its ears, it will rain.
- English superstition
A strange black cat on your porch brings prosperity.
- Scottish superstition
A cat sneezing is a good omen for everyone who hears it.
- Italian superstition
A cat sleeping with all four paws tucked under means cold weather ahead.
- English superstition
When you see a one-eyed cat, spit on your thumb, stamp it in the palm of your hand, and make a wish. The wish will come true.
- American superstition
In the Netherlands, cats were not allowed in rooms where private family discussions were going on. The Dutch believed that cats would definitely spread gossips around the town.
- Netherlands superstition
Win a FURminator!
If you haven't been FURminated yet, you don't know what your missing. It gets all the extra loose hair out of your coat, gets all the itchy places scratched good AND makes your coat incredibly soft and silky.
PetsitUSA.com is giving away a FURminator. Two FURminator packages will go to cats and two to dogs.
Visit their contest page to find out how to sign up!
Good luck and happy deShedding! Contest ends April 11th, so don't delay!
Want to join House Panthers? Our membership is open to members of the black, grey (Russian Blue) and dark brown (Bombay) clans. Ask Not the Mama to e-mail you an invitation!
Find a new friend at Petfinder.com, the temporary home of 245,845 adoptable pets from 11,827 adoption groups. Over 9,000 house panthers are available around the country!
Coming up this week: Tuesday is Black Tabby Tuesday for all you black tabbies out there, Wednesday is Blue Wednesday for our Russian Blue members,Thursday is Grrday, and Friday is Formerly Feral or Foster Friday.