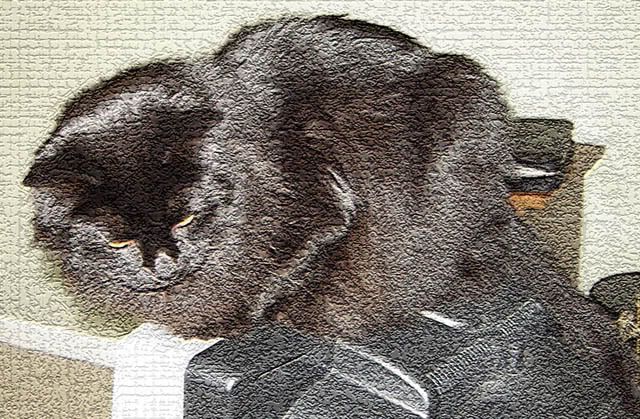 This is Diego-san from the Cat's Eye blog. The picture was edited using photoshop's Craquelure filter from the Texture file.
Sunday's Events at Cat Blogosphere
Easy Like Sunday Morning
Strolling Sunday
Spotty Sunday
Did you know?
An adult cat has 30 permanent teeth, including 12 incisors, 10 premolars, 4 canines and 4 molars.
Plaque
is the soft film made up of saliva, mucus, bacteria and leftover food that builds up on the teeth's surface when they aren't brushed.
Tartar
is the hard substance made up of calcium and phosphorous that forms at the gum line when the teeth aren't brushed regularly. It harbors and attracts more plaque and bacteria, which can lead to gum disease, gingivitis, halitosis and more.
If left unchecked both can lead to painful periodontal disease.
Feline dental treats, like Feline Greenies and Temptation's Dentabites help control plaque and tartar as well as freshen breath.
February is National Pet Dental Health Month. You can find out more at
Greenies.com
.
Cat Fancy Magazine
also running lots of info on
Cat tooth care
in their February issue.
Bad Kitty Cats Festival of Chaos 02-24-2008 is being hosted by Mz. Mog & Kitty Cats at Mind of Mog
Optional Theme - Catnip Or Treats
(submit your post here)
Join the Hotties for The Carnival of the Cats #206 2/24/08 at House of the (Mostly) Black Cats
Mini gets a treat for every cat that joins and she REALLY LOVES treats!
(submit your post here)
Want to join House Panthers? Ask Not the Mama to e-mail you an invitation!
Don't Forget! Monday is Midnight Monday here at House Panthers! Show off your beautiful black coat!
Find a new friend at Petfinder.com, the temporary home of 245,845 adoptable pets from 11,827 adoption groups. Over 9,000 house panthers are available around the country!