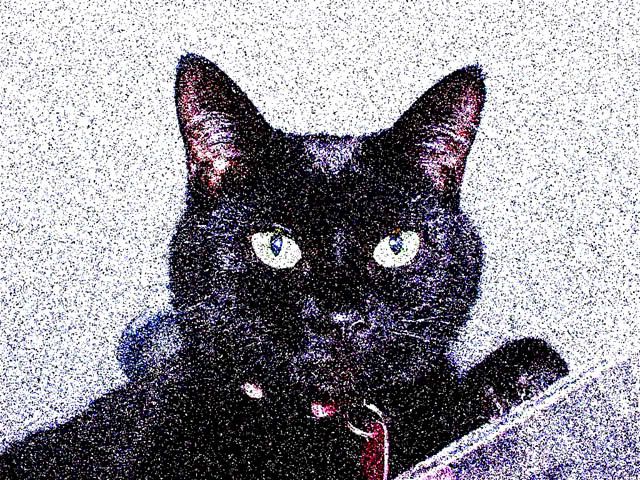 Mosaic Annie, with Photoshop's Mezzotint filter applied. The small dot option selected, and the image was scaled down after it was photoshopped.
Saterday is
Photo Hunt
day. This week's theme is "wooden".
It is also Caterday at with the Cats of
Coats of Many Colors
.
Bad Kitty Cats Festival of Chaos 02-24-2008 is being hosted by Mz. Mog & Kitty Cats at Mind of Mog
Optional Theme - Catnip Or Treats
(submit your post here)
Join the Hotties for The Carnival of the Cats #206 2/24/08 at House of the (Mostly) Black Cats
Mini gets a treat for every cat that joins and she REALLY LOVES treats!
(submit your post here)
February is National Pet Dental Health Month. (I just find this out, now that month almost over.) You can find out more at
Greenies.com
.
Cat Fancy Magazine
also running lots of info on
Cat tooth care
in February issue.
Want to join House Panthers? Ask
Not the Mama
to e-mail you an invitation!
Did you know?
Tapetum Lucidum
, the reflective layer in cats' eyes that causes "Lazer Eyes" and helps our vision at night, is a Latin phrase that means "bright carpet".
Don't Forget!
Monday is
Midnight Monday
here at
House Panthers
! Show off your beautiful black coat!
Find a new friend at Petfinder.com, the temporary home of 245,845 adoptable pets from 11,827 adoption groups. Over 9,000 house panthers are available around the country!