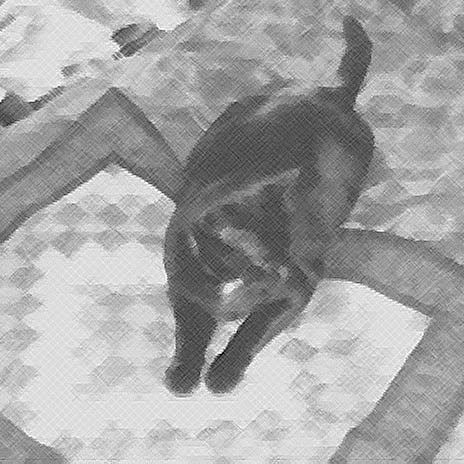 This photo was done using the crosshatch and mosaic filters in photoshop, after the greyscale was applied. First she used the mosiac effect at larger size. Then she reduced the image and appied crosshatch filter.
Board the Friday Ark at The Modulator
(submit your post here)
Bad Kitty Cats Festival of Chaos
02-24-2008 Mz. Mog & Kitty Cats at Mind of Mog
Optional Theme - CatNip Or Treats
(submit your post here)
Wait a minute? What do you mean...nip OR treats? What's wrong with both?
The Carnival of the Cats #206 2/24/08 is going to House of the (Mostly) Black Cats
(submit your post here)


Join Photohunters on Saturday. This week's theme is "wooden".
If you would like to join House Panthers, please contact
Not the Mama
for an invitation.
Did you know?
The Black Cat, not the Siamese, as many think, was the cat sacred to Bast and having a black cat in your home was sure to bring the blessings of the Egyptian Godess there, granting you riches and prosperity.
More Black Cat Trivia
.
Don't Forget!
Monday
is
Midnight Monday
here at House Panthers! Show off your beautiful black coat!
BLACK CATS ARE BEST CATS!