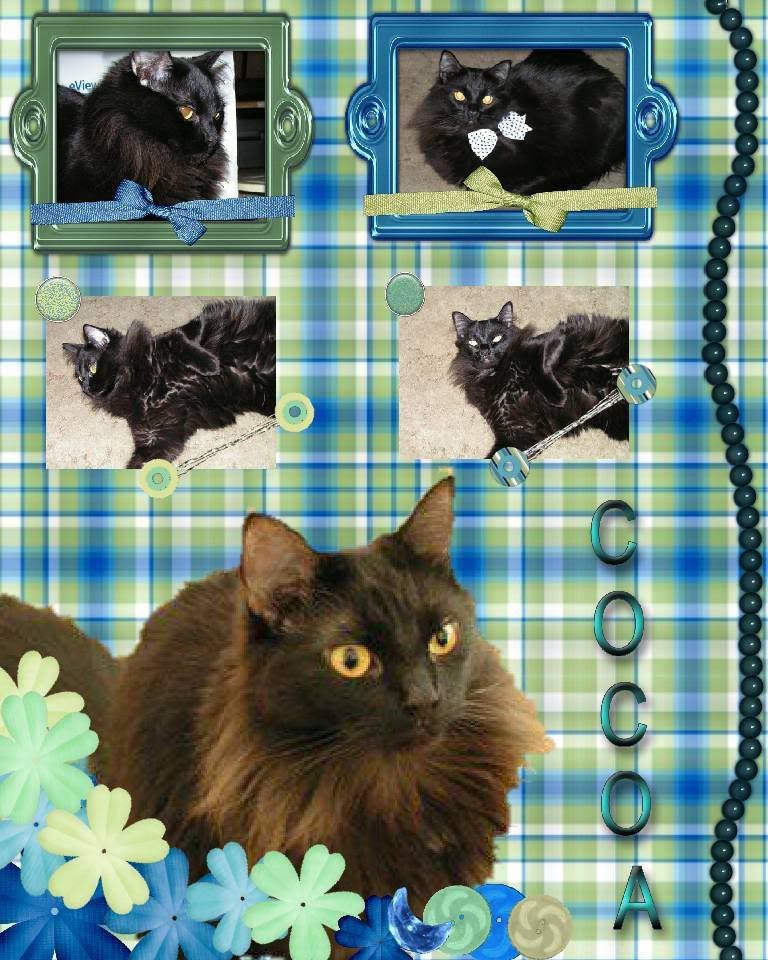 Click on the image to bigify it. Image Info
Cocoa is a little more skittish than Midnight and is afraid of alot of things: strange people, strange kitties, moving water plastic bags and loud noises are all listed amongst the things that scare him. He loves Fishy Flakes and Temptations for treats and like me, will try to get them as often as he can.
He will occasionally whap Grr in an attempt to start a game of Thundering Herd of Elephants. He's not afraid of putting the big bitey on Grr though if she should play too rough.
Cocoa and Grr look quite a bit a like, but Grr is bigger. You can find Cocoa at
Grr, Midnight and Cocoa
.
Cocoa was previously featured on House Panthers on March 7, 2007.
Saturday's Events at Cat Blogosphere
Saturday is Caturday with the cats at Coats of Many Colors.
It's also Photo Hunt day. This week's theme is "Glass".
Weekend Catblogging!

Find Weekend Cat Blogging #148 (Apr. 5-6) is being held by Bad Kitty Cats (Who did not yet get last weekend's Festival of Chaos posted)!

Bad Kitty Cats Festival of Chaos #39 (04-06-2008) with Ms. Mog & Kitty Cats at Mind of Mog.
Optional Theme - Naptime
(submit your post here)
The Carnival of the Cats #212 (4/06/08) is being hosted by Amar and Luna of CatSynth
(submit your post here)
Hands-On Communication
Most cats prefer to be stroked from head to tail, along the directional flow of their hair. Some cats don't like their stomachs rubbed - others do.
From the act of being petted, cats receive comfort. It also represents an excellent activity to bolster cat-human bonding. Cats love to curl up in human laps, purring away while nestling down for a good snooze.
Petting is a very powerful reward to cats - similar in comparison to being treated to a back massage for people. When you pet a cat, your blood pressure drops and the cat's might was well.
But be on the lookout for those times when snuggling is the furthest thing from her mind. Most cats back away if they don't want to be petted, ears and whiskers lie flat and eyes become dilated.
Pet-induced aggression can be a very common problem. A cat might enjoy being petted, but when she gets fed up with it, you will see squinty eyes, ears that swivel to the back of her head, with an irritable look on her face.
Another warning clue: the tip of her tail switches from side to side just before an irritated cat is about to bat, nip or scratch you.
Staying in touch with the world around them is extremely important to cats. Equally as vital is the petting and stroking received from their human caretakers. In this give and take action, everyone benefits.
Win a FURminator!
If you haven't been FURminated yet, you don't know what your missing. It gets all the extra loose hair out of your coat, gets all the itchy places scratched good AND makes your coat incredibly soft and silky.
PetsitUSA.com is giving away a FURminator. Two FURminator packages will go to cats and two to dogs.
Visit their contest page to find out how to sign up!
Good luck and happy deShedding! Contest ends April 11th, so don't delay!
Want to join House Panthers? Our membership is open to members of the black, grey (Russian Blue) and dark brown (Bombay) clans. Ask Not the Mama to e-mail you an invitation!
Don't Forget! Monday is Midnight Monday here at House Panthers! Show off your beautiful black coat!
Tuesday is Black Tabby Tuesday for all you black tabbies out there, Wednesday is Blue Wednesday for our Russian Blue members,Thursday is Grrday, and Friday is Formerly Feral or Foster Friday.
Find a new friend at Petfinder.com, the temporary home of 245,845 adoptable pets from 11,827 adoption groups. Over 9,000 house panthers are available around the country!