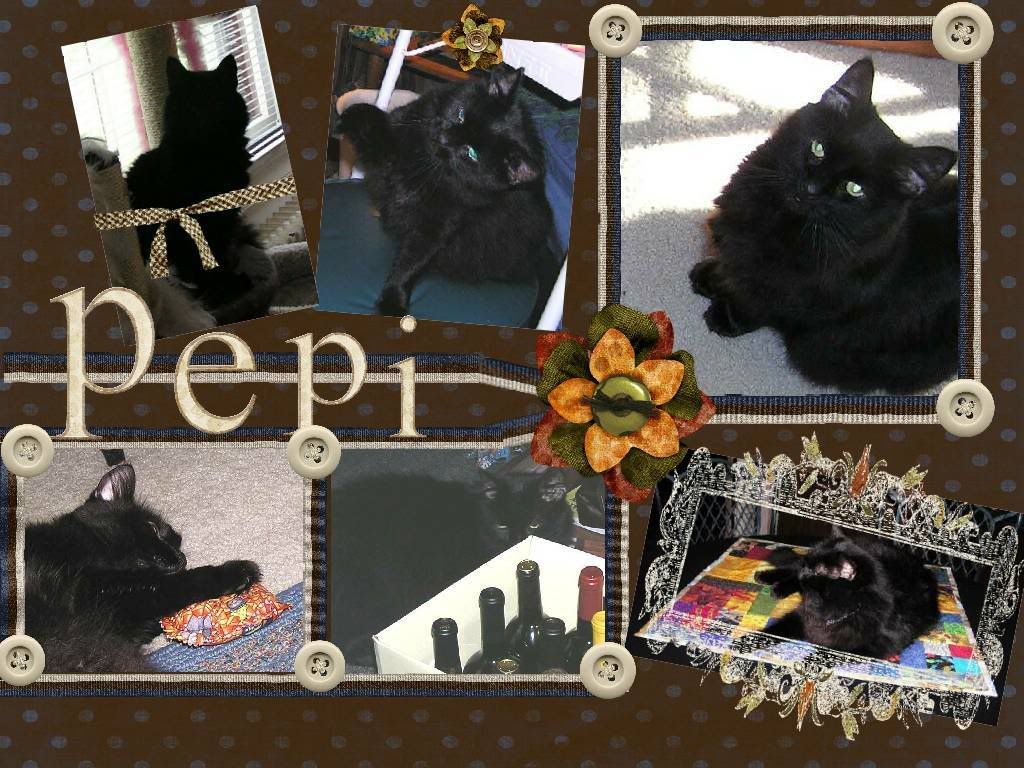 Click on image to bigify it. Info.
Pepi is one of the Hotties at
The House of the (Mostly) Comatose Black Cats
. He is a 9 year old domestic medium hair House Panther.
Pepi and his sisfur Gree lived two doors down from the Hottie Home and their staff was not taking very good care of him. He was skinny and sad looking and would come over to the Hottie House looking for headbutts and food. He was later abandoned when his staff left without him.
So the Hotties Mom agreed to become Pepi's staff and take him to the vets and feed him and such. He and Gree liked to hang out on the porch and eventually moved inside the house and into the lap of luxury. Pepi insists he is NOT the token mancat of the Hotties.
He lives with Sanjee, Boni Maroni, Gree and Mini near Richmond, Virginia.
Monday's Events at Cat Blogosphere
Midnight Monday:
Come on House Panthers, show us your petty black furs!
***
It's Meezer Monday for all Meezers with Simply Siamese
Mancat Monday for all ferocious Mancats and mancats-in-training
Movie Monday for our Feline Fellini Furriends
Happy St. Patrick's Day!
HEMING-CATS CAN STAY!
Florida's Key West city commission ruled in July of 2007 that the Hemingway Home and Museum is exempt from a law prohibiting more than four domestic animals per household.
The approximately 50 cats living at the museum are descended from a six-toed cat give to the American novelist Ernest Hemingway in 1935, and they attract visitors from around the world.
Noting the cat's historic and tourism value, the commission approved an ordinance that allows the museum to keep the cats without obtaining a special license.
The Hemingway Home and Museum (907 Whitehead St., Key West, Fl. 33040) is open daily from 9 a.m. to 5 p.m. Call the museum at (305) 294-1136 for rates or visit online at
www.hemingwayhome.com
. They have a live cat-cam broadcasting from the Hemingway Home Grounds.
Polydactylism is a naturally occurring mutation in cats due to inbreeding. It is believed that polydactyl cats were descended from ship cats, whose roaming area and breeding options were limited due to being at sea.
Among the current residents at the home you will find Joan Crawford, Audrey Hepburn, Charley Chaplin, Pablo Picasso, Spencer Tracy, Sofia Loren and Emily Dickinson.
Be a featured Panther!
If you would like to be a featured panther, please
e-mail me
and let me know the location of your blog. There are so many members that I can't locate from the information on our blog, such as Apollo and Carmen. Other cats, such as Puddy at A Byootaful Life, I cannot use the picture for because the are too small a size. So I would need you send me images.
Please let me know if you are interested!
Want to join House Panthers? Ask Not the Mama to e-mail you an invitation!
Find a new friend at Petfinder.com, the temporary home of 245,845 adoptable pets from 11,827 adoption groups. Over 9,000 house panthers are available around the country!