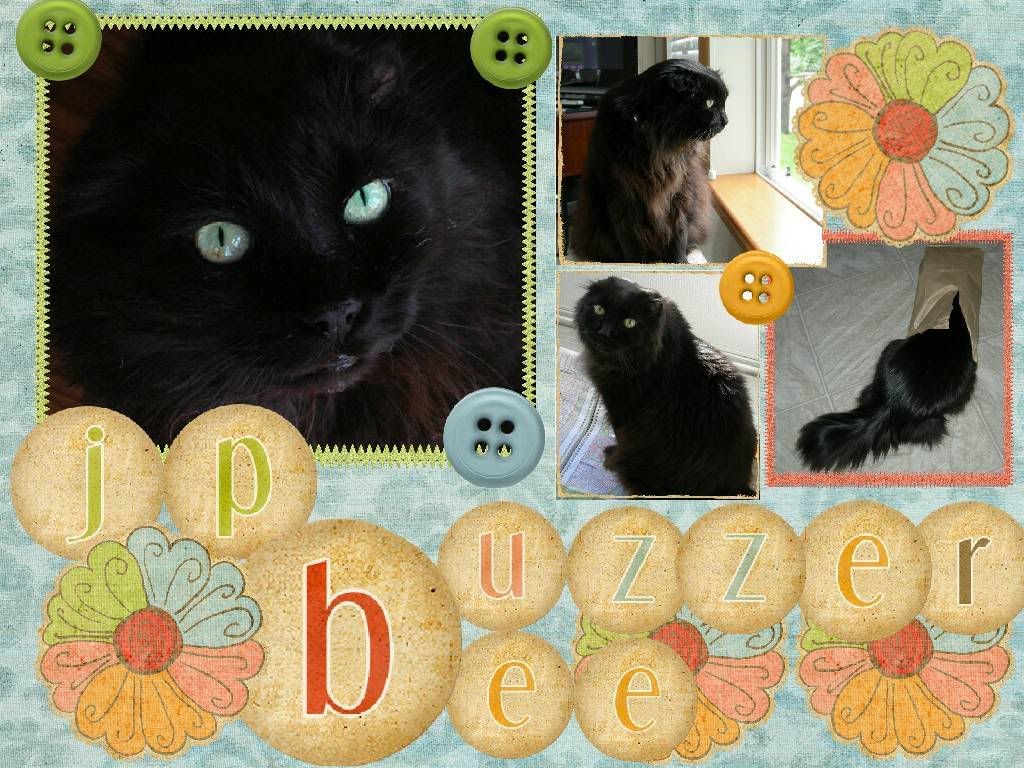 Click the image to Bigify it. Image Info.
JP Buzzerbee was one of the very first members of House Panthers along with his brother Meep. Unfortunately he passed over the Rainbow Bridge June 28, 2007 after a battle with cancer. He was only 5 or 6 years old at time.
He was a very beautiful cat with some really stunning green eyes. His memory lives on
Buzzerbee's Blog
where Meep and his new two brothers, Twizz and Bear, blog about their life.
Like Buzzerbee, all three are rescue kitties and all are FIV+. They live in New Hampshire.
Tuesday's Events at Cat Blogosphere
Tattle Tail Tuesday or other kind of tails, or tales as well
Tabby Tuesday for all Attack Tabbies (or other sorts of tabbies)
Tuxie Toosday for all Tuxedo Cats at the Tuxedo Gang Hideout
Tummy Tuesday for showing off all those kitty tummies
Toesies Tummy for showing those claws…errrr… toes
Tortie Tuesday with Tough A** Torties Club
Cats on Tuesday

AND NOW: Black Tabby Tuesday on House Panthers!
My Bean was looking for something in her office today and ran across this article that some thoughtful friend or relative had clipped for her. I will not walk on leash and am very good at escaping harness as well. However, I know that some of you may not get to go outside otherwise, so I provide this for the edification your humans.
Not only will cat walk on leash - he begs for it
BY CAROL MCGRAW
McClatchy News Service
COLORADO SPRINGS, COLO.
- Every morning, Mr. Zi runs to the footstool where his leash is kept, drags it to the floor and sits there impatiently, making demanding noises, until owner Camilla Gresham puts his halter on. Then it's out the door they go.
Just like a well-trained dog, Zi walks by her side, usually in the perfect heel position, and stops passers-by in their tracks: Is that a cat? On a leash? And look at those spots! Is he wild? A leopard?
Zi is a Bengal, an intelligent domestic breed of cat whose forefathers a few generations back were small wild Asian leopard cats and domestic felines. Like the rest of his breed, his back legs are a bit taller than his forelegs, giving him that stealthy, I-own-the-world walk. He is lithe and muscular, about 15 pounds, with soft, mink like, cinnamon fur with dark spots.
Gresham says Bengals are often called "dog like" because they love to play in water, fetch toys, talk (a lot), and demand more attention than most cats usually want. They make a good alternative for some people who are allergic to cats because their fur is pelt like, and they shed very little.
Gresham and her husband, Tom, got Zi from a neighbor's relative who could no longer care for him. Zi was used to roaming the great outdoors, but the Greshams decided to keep him indoors for fear of wildlife. But Zi meowed pitifully to get outside, so Gresham finally decided to try a leash.
That he took to the leash so quickly is unusual, even for a Bengal. It usually takes training, says Laurie Clauss, veterinarian at Cattails Feline Health Center. But any breed of cat can be trained to the leash at any age.
It's more a matter of intelligence and especially temperament, Clauss says. And it takes a certain kind of owner, too. "It's a matter of patience. It usually takes a lot of training. You have to make the experience a privilege for the cat."
Clauss says all cats should be indoor pets because of outdoor dangers and suggests walking a cat only in the yard for safety's sake. Giving them a 10-minute leashed walk outside "is a neat way to get mental stimulation," Clauss says.
Gresham doesn't have any advice on how to train a cat to take to a leash, because Zi didn't fight it or meow to have the halter taken off. "He took to it immediately. I think he knew that was the only way he was going to get some fresh air."
TEACH YOUR CAT TO WALK ON A LEASH
· Start as early as you can; it's easier to train a kitten.
· Use an "8" -shaped cat harness, not a collar, for walking. But have a small collar with an ID on the cat, too.
· Get the cat used to the harness in the house without the leash. Put it on before you feed him so he associates the harness with something pleasant. Don't leave it on very long.
· When he is comfortable with the halter, put the leash on and let him drag it around. Train when the cat is hungry.
· Use the cat's name, followed by "heel," as you would a dog. Move forward a couple steps at a time very slowly. When the cat follows, give praise and a treat.
· When the cat is comfortable with the leash, take him outside. Train on the grass and around bushes, which will interest the cat more than a sidewalk. Don't train in busy area that may scare it.
· Be sure the cat is up to date on vaccinations.
· Walk the cat in your yard only so it won't get frightened by cars and dogs.
· Always carry the cat out the door so he doesn't get used to running out the door anytime.
Last week, when I was writing about proper way to take a bath, I knew that someone would trot out the tired old joke of putting cat in a toilet and flushing it. Needless to say
The Poodle (and the Dog) Blog
did not let me down.
If do not find the cruelty to animals funny at all. Evidently I am not the only one as Robin Rockey blogs about the use of animal cruelty passing as humor on TV on
CatChannel.com
. This article is well worth the read, so please take a moment to have a look at it.
Want to join House Panthers? Ask Not the Mama to e-mail you an invitation!
Find a new friend at Petfinder.com, the temporary home of 245,845 adoptable pets from 11,827 adoption groups. Over 9,000 house panthers are available around the country!