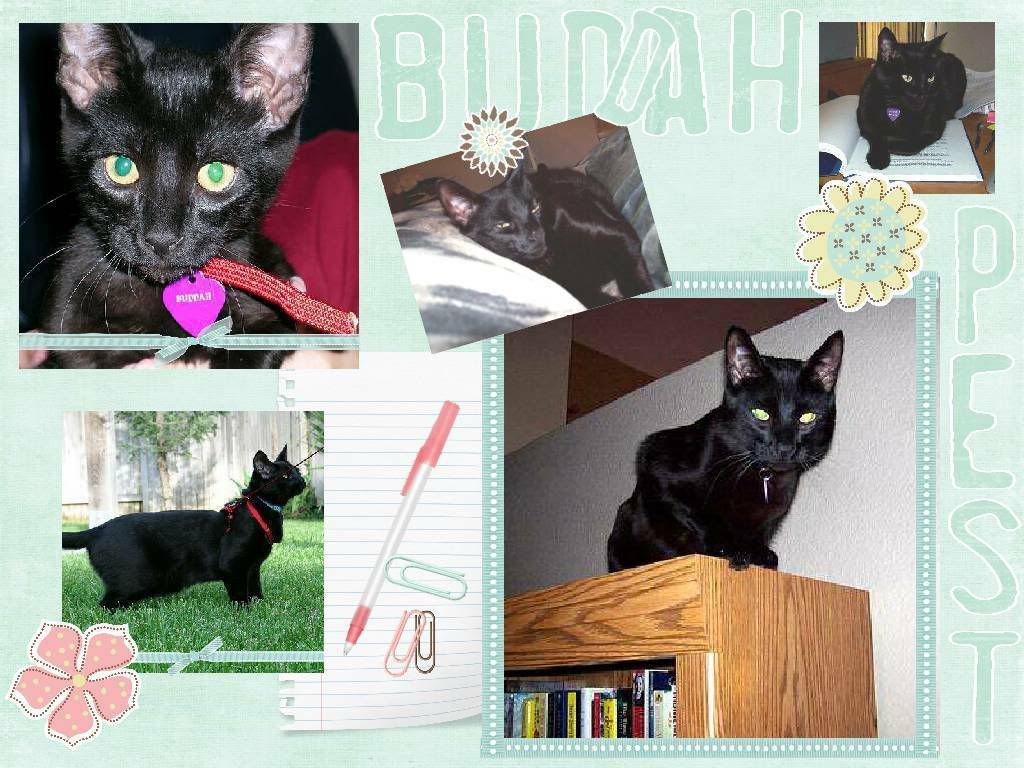 Click on image to bigify it. Image Info.
Hippo Purrthday Buddah Pest!
Buddah says he is 12 pounds of furry black fun and that he has 2 speeds: 100 MPH and off. He turns 3 today, so be sure wish him a Hippo Purrthday Day!
He lives with
Max the Psychokitty
, and blogs over at
The Adventures of Buddah Pest
.
Sunday's Events at Cat Blogosphere
Easy Like Sunday Morning
Strolling Sunday
Spotty Sunday
Suddenly Sunday
Weekend Catblogging!

Find Weekend Cat Blogging #145 (Mar. 15-16) is being held at Cat Blogosphere.

Bad Kitty Cats Festival of Chaos #36 (03-16-2008) with Pet & the Bengal Brats at Pet's Garden Blog.
Optional Theme - Toes or Claws
(submit your post here)
The Carnival of the Cats #209 (3/16/08) is being hosted by This, That and the Other Thing
(submit your post here)
7 Simple Ways to Help Cats in Need
1 to 3 were part of
yesterday's post
, here at House Panthers. Today we conclude the article.
4. Foster and find a home.
Fostering can be a rewarding and fulfilling experience for both you and the rescued cat. (Just ask Not the Mama how rewarding it was to foster Calli!)
"It's important to have a setup where rescued kitties will be isolated from other cats in your household for a while," says Nancy Peterson, Feral Cat Program Manager with The Humane Society of the United States in Washington, D.C "Be sure to socialize the cats and kittens and get them used to having their nails clipped, being held and having their ears checked."
When they're ready for adoption, create fliers and newspaper ads with irresistable photos and descriptions of the cats, and spread the word to friends, family and co-workers.
5. Spay and neuter.
All rescued cats should be spayed or neutered to prevent future generations of homeless cats from being born, but it's a little more of a challenge when the cat isn't tame.
"Let's say that you find a feral cat," Castle says. "You won't be able to touch it or bring it inside, but it still needs to be fIXed. The trap-neuter-return (TNR) technique should be used to capture the cat in a humane trap, get it fixed, return it to its environment and provide it with ongoing food and water."
A complete guide to TNR can be found at
www.alleycat.org
. Also,
www.spayusa.org
lists free spay and neuter options.
"The thing that people don't realize is that cats can get pregnant at just 4 to 5 months of age and also can become pregnant while nursing a litter of kittens," Peterson says.
6. Adopt the cat yourself.
"If you find a stray cat, if you're willing and able to keep it, that's a lovely option," Peterson says. It's also a popular option: 33 percent of people obtain their cats and kittens as strays, according to the American Pet Products Manufacturers Association 2007-2008 National Pet Owners Survey.
"It's common for people to find cats that show up on their doorsteps, and then when they help, it's a wonderful thing to do for the animal and the person," Castle says. "They often find it's the best cat they've ever had."
7. Help stop the cycle of animal homelessness.
Unless you want to find lots more cats on your doorstep, educate your neighbors, friends and family about the importance of spaying and neutering their pets.
Last but not least, give yourself a pat on the back for helping a cat in need!
Want to join House Panthers? Ask Not the Mama to e-mail you an invitation!
Don't Forget! Monday is Midnight Monday here at House Panthers! Show off your beautiful black coat!
Find a new friend at Petfinder.com, the temporary home of 245,845 adoptable pets from 11,827 adoption groups. Over 9,000 house panthers are available around the country!