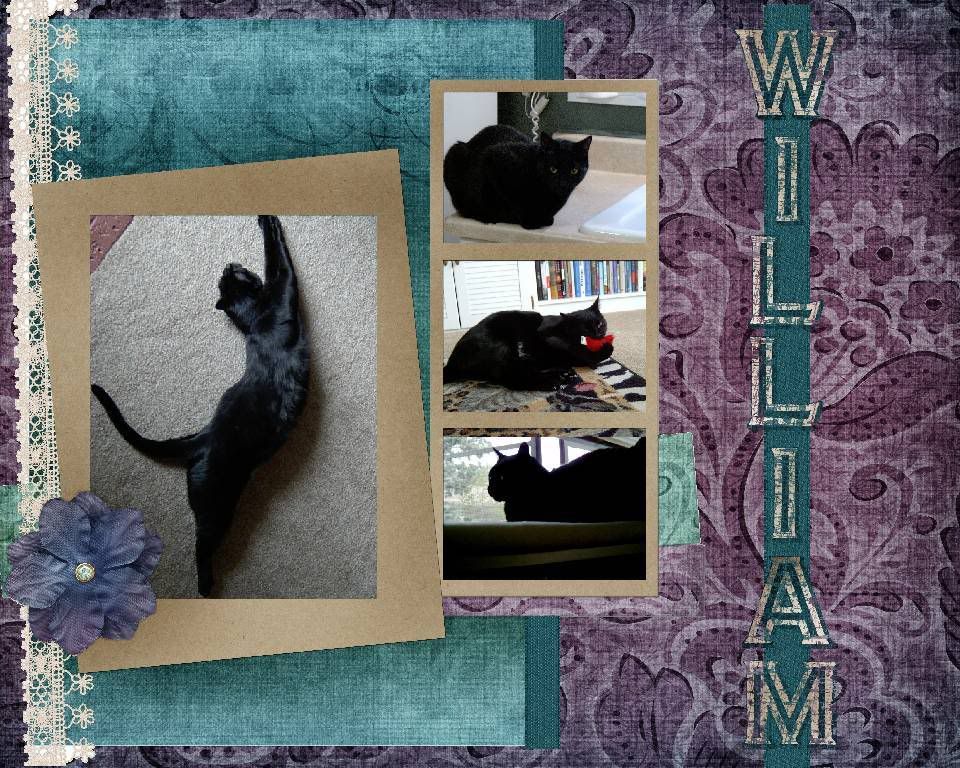 Click on image to bigify. Image Info..
William is a soon to be (April) 5-year-old domestic short hair. He was abandoned as a kitten by some irresponsible people along with his mother, who was pregnant with another litter and his sister. They live in the Albequerque, New Mexico, and had to fend for themselves in the 100 (give or take a few) degree heat. He was taken in as a rescue and was supposed to be a foster, but ended up staying while his mother birthed her litter of kittens.
Today he lives with two sisters, Olivia and Caroline, and a brother, Russell, with the family that rescued him. He earned the "mass destruction" part of his name when he bravely dispatched a very evil roll of toilet paper and saved them all from an unspeakable doom. He still likes to destroy toilet paper when he can get his claws into.
You can find William online at
William of Mass Destruction
.
Friday's Events at Cat Blogosphere
Hey you guys, it's Feline Friday!
Foster Friday started by Kat's Cat of the Day
Formerly Feral Friday for all formerly feral kitties
Finally Friday started by Gandalf & Grayson
Frootbat Friday for cats to show off their big ears
and it's Fashion Friday for our furry fashion diva furriends!
Board the Friday Ark at The Modulator
(submit your post here)
Weekend Catblogging!

Find Weekend Cat Blogging #146 (Mar. 22-23) is being held by Kashim & Othello at Paulchens.

Bad Kitty Cats Festival of Chaos #37 (03-23-2008) with Samantha & Tigger at Life from a Cat's Perspective.
Optional Theme - Easter Edition
(submit your post here)
The Carnival of the Cats #210 (3/23/08) is being hosted by Chey's Place
(submit your post here)
Join Photohunters on Saturday. This week's theme is "metal". (I think that is what my Bean listen to?)
Time After Time: Essentials for the proper care of an aging cat
(Part 1 of 3)
As much as we try to deny it, just like humans, cats age. The older we get, the more care we need to ensure our comfort. Sometimes it's hard for our caretakers to pinpoint when their feline friends begin showing the signs of aging, and whether they're doing everything necessary to ease our senior years.
Put your worrying behind you. With these expert tips uou can ensure that you receive all the pampering you need, to help you both enjoy these golden years.
Seniority Rules
- Though the age of 8 or 9 is quite young for humans, the same cannot be said for their feline friends. In fact, during these ages, we cats slow down and often are labeled as aging. .
"There is no one age that defines a cat as a senior, but the years 8 to 10 are very common for senior diseases to show up in cats," says Mike Karg, a veterinarian at Frederick Cat Vet in Frederick, Md.
"(Caretakers) should look for changes in activity and ability to jump, increase or decrease in appetite, or increase in water consumption and urine output. These are just a few of many common changes that often show up very gradually," Karg says.
"Many cats live very affectionate and playful lives into their late teens and even twenties, so any change should not be dismissed as simply growing old," he says. "A complete physical examination by your veterinarian, followed by appropriate laboratory testing, can reveal problems for which there is often a very straightforward treatment."
Comfort Inn
- Admit it, we all love to be comfortable when we're feeling ill. When we begin aging, your humans should make sure that you are always comfortable. Arthritis might set in, causing you to require special bedding, or pet stairs to help you reach cozy sleeping spots.
Making your way up flights of stairs to the food dish or litterbox also might become a difficult task, so those items should be placed in an easy location for you to reach.
A litter box with a lower lip might help as well, so it is not so hard for you to climb over. Hammocks, such as the ones
Forty Paws
has, are a very comfortable resting location for aging bones.
Want to join House Panthers? Ask Not the Mama to e-mail you an invitation!
Don't Forget! Monday is Midnight Monday here at House Panthers! Show off your beautiful black coat!
Find a new friend at Petfinder.com, the temporary home of 245,845 adoptable pets from 11,827 adoption groups. Over 9,000 house panthers are available around the country!