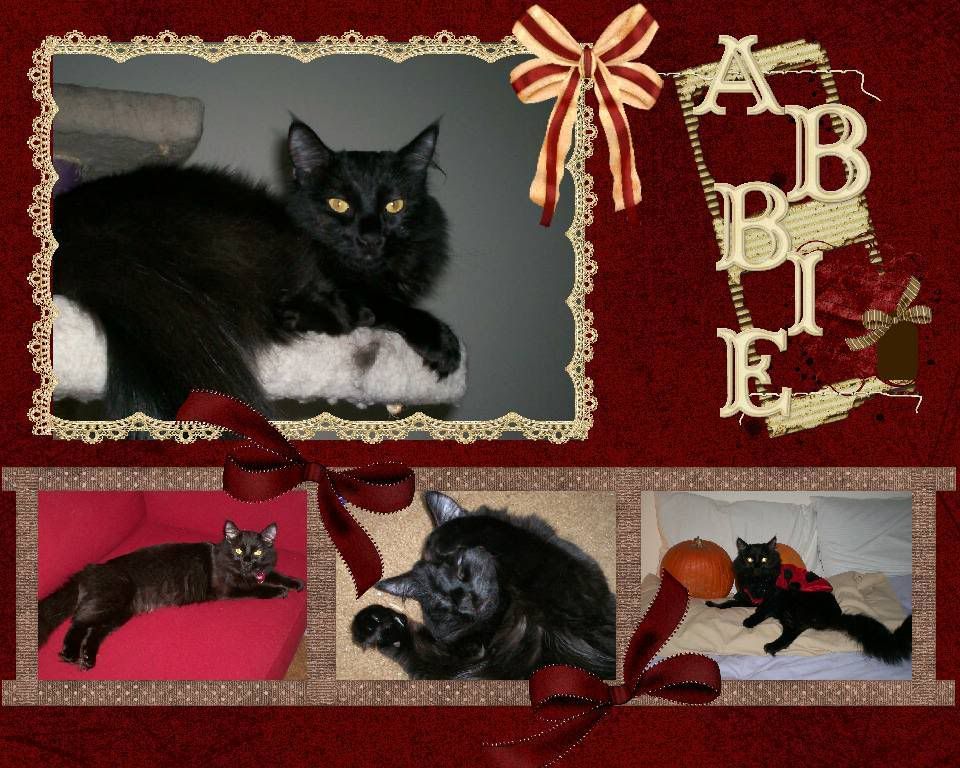 Click on the image to bigify it. Image Info
While Abbie (Harper Abigail Stephens) is technically the House Panther in the Cats Stephens gang, but Emily and Eliot are good candidates for Blue Wednesday.
Abbie became a Stephens in March of 2007 and celebrated her first Gotcha Day at the beginning of the month. She was adopted for PetSmart, mainly as a companion for Eliot. Evidently Emily is not really friendly and Percy is a little on in years. She likes to bite feet, especially if she's being ignored, and she likes to start fights with Eliot, then act like he's hurting her. Unfortunately, just about everyone has caught onto this ploy.
She is a long haired Panther with a very long body and tail that are both low to the ground giving her a kind of ferret look.
There have been a lot of changes recently in the Cats Stephens household and they do not blog as actively as they did, but you can find Abbie and Company at
The Cats Stephens
.
Please stop by and leave a note for Percy as well, who has non-metastasized nerve sheath sarcoma and will likely have to have surgery to remove a couple of toes. The are picking up a referral to take him to see a specialist at a hospital in Virginia .
Image by Zoolatry
Saturday's Events at Cat Blogosphere
Saturday is Caturday with the cats at Coats of Many Colors.
It's also Photo Hunt day. This week's theme is "Metal."
Weekend Catblogging!

Find Weekend Cat Blogging #146 (Mar. 22-23) is being held by Kashim & Othello at Paulchens.

Bad Kitty Cats Festival of Chaos #37 (03-23-2008) with Samantha & Tigger at Life from a Cat's Perspective.
Optional Theme - Easter Edition
(submit your post here)
The Carnival of the Cats #210 (3/23/08) is being hosted by Chey's Place
(submit your post here)
Time After Time: Essentials for the proper care of an aging cat
(Part 2 of 3)
Routine Scene
Schedules make humans crazy at times, but they actually can help aging cats stay on track. We are more creatures of habit than our caretakers are.
"Keeping a similar schedule each day can help decrease some confusion cats can experience, therefore reducing their stress levels," says Wailani Sung, a veterinarian at First Regional Animal Hospital in Chandler, Arizonia.
"It will not prevent their development of cognitive dysfunction; however, providing environmental enrichment, such as interactive toys, games, rotating toys or making small, gradual changes to (the feline) environment can enhance the quality of their lives, and might make them more adaptable to other changes in their environment," Sung says.
You might want to get your caretaker to leave the radio playing softly for your pleasure while they are out dayhunting. Remind them that we like quiet easy listening stations, and not loud and noisy musics.
Vet Visits
Much as many of us dread car trips and being taken into a noisy veterinary office, frequent check-ups are necessary for aging cats, They ensure that no sicknesses appeared seemingly overnight.
Going to the veterinarian for a check-up every six months can work in your favor. It also helps veterinarians detect and pinpoint diseases early on, while preventing future health-related problems that might set in.
Second Childhood
It might seem strange that, after years of behaving, you suddenly begin to revert back to your unruly kitten ways. This happens sometimes to humans as well. With aging felines, however, this change in behavior can't always be helped.
"One of the diseases that affects older cats - that causes only behavioral changes - is severe senility, or Cognitive Dysfunction Syndrome (CDS)," says Matthew D. Wheaton, a veterinarian and owner of Alicia Pet Clinic in Laguna Hills, California. "CDS is a recently recognized disease that affects some older cats, and is similar to Alzheimer's disease in many ways. Cats might show disorientation, confusion or just disconnect themselves from interaction with family members. Sometimes these patients will forget how to use the litterbox appropriately."
Because many other common conditions can mimic this disease, a CDS diagnosis only occurs after veterinarians rule out all other possibilities. This can frustrate everyone by the time the diagnosis is made.
"Treatment can be very helpful with specific medications, and supportive therapies, such as antioxidant supplementation and vitamins," Wheaton says.
(Sadly there seems to be no help for the CRS syndrome that my human suffers from.)
Want to join House Panthers? Our membership is open to members of the black, gray (Russian Blue) and dark brown (Bombay) clans. Ask Not the Mama to e-mail you an invitation!
Don't Forget!
Monday is Midnight Monday here at House Panthers!
Show off your beautiful black coat!
Tuesday is Black Tabby Tuesday for all you black tabbies out there, Wednesday is Blue Wednesday for our Russian Blue members,Thursday is Grrday, and Friday is Formerly Feral or Foster Friday.
Find a new friend at Petfinder.com, the temporary home of 245,845 adoptable pets from 11,827 adoption groups. Over 9,000 house panthers are available around the country!