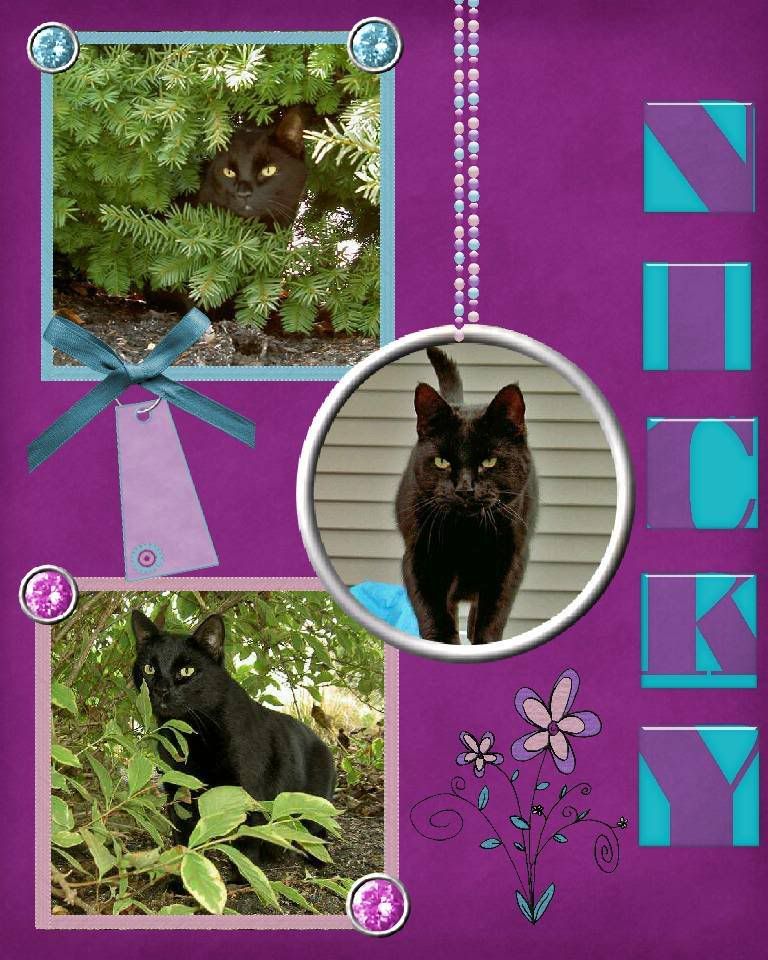 Click on image to bigify it. Image Info.
Nicky is one of the cats I've been trying to track down. His link on
House Panthers
says KellyCat, but it leads nowhere. That would make sense, as they blog off blogger (but couldn't you at least fill out the profile a bit and add a link to the "My Website" section?)
Nicky turned 7-years-old last October. He was adopted as a kitten and has lived with his family since. Upon moving in, he immediately tried to take over the household, but Kelly still refuses to bow down to him.
He is very protective of his family who writes that "People may associate with dogs the words 'loyal,' 'faithful,' and 'brave,' but these qualities also apply to our little black cat. He also plays fetch, he growls when the doorbell rings, and sometimes he even howls in the middle of the night for no apparent reason."
My Bean's mom says that cats are much more loyal, brave and faithful than dogs, but that they always get mislabeled as sneaky, cruel and aloof by people who do not understand us. Perhaps we need to hire better public relations people?
Sometimes called "El Gatito Perfecto", this good cat blogs at
It's all Good
. He also does Midnight Monday on a regular basis, even if he never posts links for us.
Sunday's Events at Cat Blogosphere
Easy Like Sunday Morning
Strolling Sunday
Spotty Sunday
Suddenly Sunday
Weekend Catblogging!

Find Weekend Cat Blogging #146 (Mar. 22-23) is being held by Kashim & Othello at Paulchens.

Bad Kitty Cats Festival of Chaos #37 (03-23-2008) with Samantha & Tigger at Life from a Cat's Perspective.
Optional Theme - Easter Edition
(submit your post here)
The Carnival of the Cats #210 (3/23/08) is being hosted by Chey's Place
(submit your post here)
Time After Time: Essentials for the proper care of an aging cat
(Part 3 of 3)
Oops, an Accident
Cleaning up messes throughout the house can be aggravating for your human staff, but it is not surprising for aging cats to urinate or defecate outside the litterbox. Older cats are more at risk for kidney and/or liver failure, diabetes and even osteoarthritis; all of which contribute to litterbox-related behavior problems. Your caretaker should spend extra time ensuring that your litterbox is clean, and placed in a private area. If the problems continues, pay your veterinarian a visit to put your mind at ease and ensure there are no health issues.
Mega Personality
Personalities might change in old age, but for cats, sometimes the opposite is more accurate.
"What I have noticed is that whatever personality a cat has becomes more exaggerated as they age," says Kelly K. Jones, a veterinarian at the Cat Hospital of Wichita in Wichita, Kansas. "For instance, a lap cat will become more of a lap cat. An aggressive cat, on the other hand, will certainly not become more friendly as he ages, but I have not seen personality changes unless it is associated with something like a brain tumor or other brain condition."
"An informed and alert caretaker is a cat's best friend," says Stephanie F. Westerman, an associate veterinarian at Summer Street Cat Clinic in Buffalo, N.Y. "With an attentive caretaker, regular veterinary care and a dose of luck, cats can live good-quality lives to late in the teens, and even beyond!"
You now know exactly how to keep thriving through the rest of your life. Schedule: an appointment with your veterinarian: assure that cozy spots are set up for you to curl up in, and get ready make the most of your golden years.
Want to join House Panthers? Our membership is open to members of the black, grey (Russian Blue) and dark brown (Bombay) clans. Ask Not the Mama to e-mail you an invitation!
Don't Forget! Monday is Midnight Monday here at House Panthers! Show off your beautiful black coat!
Tuesday is Black Tabby Tuesday for all you black tabbies out there, Wednesday is Blue Wednesday for our Russian Blue members,Thursday is Grrday, and Friday is Formerly Feral or Foster Friday.
Find a new friend at Petfinder.com, the temporary home of 245,845 adoptable pets from 11,827 adoption groups. Over 9,000 house panthers are available around the country!