Click the image to Bigify it.
Thursday is Grrday
Thursday's Events at Cat Blogosphere
Thursday Thirteen, da big meme, aka TT or T13
Thankful Thursday
Thoughtful Thursday

Natural Care for Senior Cats
Our feline companions are living well into their teens and twenties these days, spending half of their lives as seniors. Awareness of your cat's special senior needs can help it age gracefully, and many caretakers choose to address those needs naturally.
Natural or holistic pet care focuses on the entire animal. Holistic veterinarians are concerned with the social, psychological, environmental, nutritional and medical aspects of your cat's well being. Using natural means, such as flower essences, herbal treatments, nutrition, chiropractic, acupuncture and massage - in addition to main­stream medical approaches - holistic veterinarians work toward the health of your pet in gentle and minimally invasive manners.
Mature cats face many age-related physical changes, such as deteriorating eyesight, diminished hearing, decreased strength and agility, joint stiffness and a weakened immune system, in addition to possible medical concerns, including heart disease, hyperthyroidism or diabetes.
"Pain is the most common and under ­recognized health concern of senior cats," according to Narda G. Robinson, a holistic veterinarian and professor at the Colorado State University Veterinary Teaching Hospital in Fort Collins, Colo. "It may be pain from arthritis, either in the back or elbows, or other causes of pain, like those from old traumas or chronic illnesses," she says.
Pain can cause older cats to stop jumping or interacting with others, and might lead to litter­box problems. After all, if it hurts to raise your leg high enough to step into the litterbox, it's easier to just do your business next to it.
Robinson prefers acupuncture to target a cat's painful areas because it doesn't stress the cat's system by adding things it will have to metabolize or detoxify. Gentle grooming and therapeutic massage also can improve blood circulation and lower stress in older cats that might have arthritic joints and weaker muscles.
Before using any holistic-care regimen, discuss it with your regular veterinarian. To find a holistic veterinarian, check the American Holistic Veterinary Medical Association's website,
www.ahvma.org
.
Cat caretakers must remember that because senior cats are more fragile, they need quiet, gentle care and understanding, food that's easy to chew and digest, and veterinary checkups at least once a year, Robinson says.
With love and attention tailored to your aging cat's needs, you both can get the most out of those special senior years.
Spooker, Little Isis and the crew at
Purrchance to Dream
tagged us for Linda's
Make A Wish Meme
.
I really wish you could have seen Bean bending over to get all the Eastern stuff out the other day, that was hysterically funny! But on a more serious note...
I would also wish for an end to Cruelty against Animals (including Human Animals).
The Rules
1. Think about what it is that you want more than anything, what your heart's desire and fondest wish is, and what it is that you would wish for if you were to see the above wishing star flame across the night sky.
2. Right click and SAVE the blank graphic below.
3. Use a graphics program of your choice and place your wish on this picture: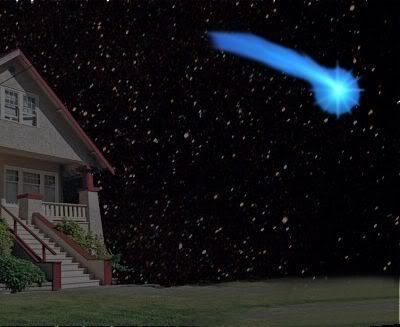 4. Post the
Make A Wish Meme
and your wishing star on your blog along with these rules.
5. Tag as many people as you like so that there can be wishing stars all across the Blogosphere and ask them to please link back to
Linda
so that we can see what wishes others have made and share those wishes with others.
I would like to tag
Grr, Midnight and Cocoa
, since it IS GRRDay,
Mickey the Black Cat
and
Cecil the Cougar
.
Want to join House Panthers? Ask Not the Mama to e-mail you an invitation!
Don't Forget! Monday is Midnight Monday here at House Panthers! Show off your beautiful black coat!
Find a new friend at Petfinder.com, the temporary home of 245,845 adoptable pets from 11,827 adoption groups. Over 9,000 house panthers are available around the country!