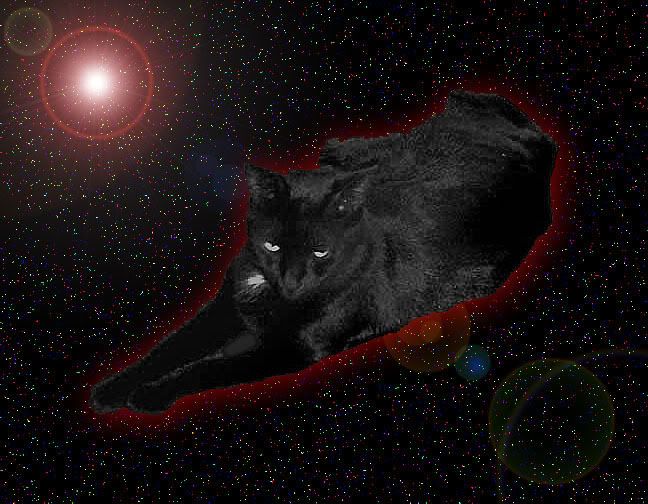 I had made the comment on Zoolatry's blog that while I know what filters she's using, she does much better work than me, and that well, Black Cats are harder to work with than Himmies because of the lack of contrast. She took it as a challenge and send me several nice treatments. I like this one the best I think (although wait until I unveil the Black Cat Pub one she do!)
Tuesday's Events at Cat Blogosphere
Tattle Tail Tuesday or other kind of tails, or tales as well
Tabby Tuesday for all Attack Tabbies (or other sorts of tabbies)
Tuxie Toosday for all Tuxedo Cats at the Tuxedo Gang Hideout
Tummy Tuesday for showing off all those kitty tummies
Toesies Tummy for showing those claws…errrr… toes
Tortie Tuesday with Tough A** Torties Club
and Cats on Tuesday
Feline GPS:
Whiskers help us figure out where we are in relationship to what is around us. Feline Vibrissae are not quite a GPS system for Cats, but according to Sandra Diaz-Vergara, veterinary dermatologist at Virginia Tech, cats use tactile orientation and must touch objects with their whiskers to transfer information. Vision-impaired cats from birth have longer whiskers to help them orient better.
"A cat that is born blind or has adapted to blindness will be a master at using its whiskers," says Tracy McFarland, veterinarian and owner of The Cat Doctor in Santa Clarita, Calif. "When I have a blind cat in my exam room, unless they are newly blind they are using whiskers to navigate."
More on Whiskers as Whisker Week continues tomorrow, here on House Panthers!
Help Higgins!
Higgins, a beautiful 3 year old long haired House Panther is looking for a furever home in the Los Angeles, California, area. I must say, he is a very handsome Mancat and I'm told he's very lovable as well.
Higgins has been features on
Kat's Cat of the Day
as well as
Grr, Midnight & Cocoa
's Blog.
If you can let Higgins into your heart and your homes, please contact
Midnight's Mom
for more information.
Good Mews!
House Panthers will be hosting the Carnival of the Cats #215, the weekend of April 27, 2008. This will be the first time that I, Diamond Emerald-Eyes, have hosted a Carnival of the Cats and also the first time it will be hosted at House Panthers. I'm really looking forward to this event, and I hope you will join us to make a huge success!
Want to join House Panthers? Ask Not the Mama to e-mail you an invitation!
Find a new friend at Petfinder.com, the temporary home of 245,845 adoptable pets from 11,827 adoption groups. Over 9,000 house panthers are available around the country!