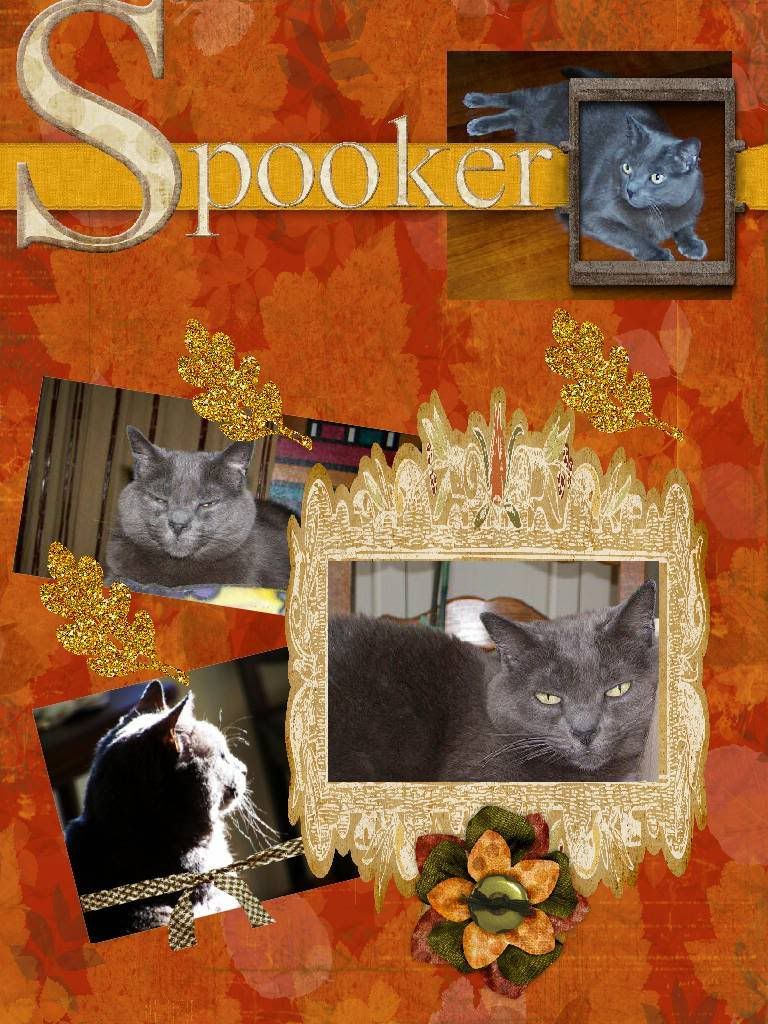 Click the image to bigify it. Click HERE for compostion information.
Spooker lives with Little Isis and Not the Mama in Michigan and blogs at
Purrchance to Dream
. She is one our Russian Blue House Panthers. She is 14 years old and was the Glorious Center of the Known Universe until a pair of interlopers named Chloe and Daphne showed up.
She was a rescue kitty, having been dropped in a shoe box on the doorstep of the Animal Shelter in Dayton, Ohio. She is terrified of "outside" and never wants to go out there, not ever. She is often refered to as Auntie Spooker, both because of her age and as a sign of respect.
Wednesday's Events at Cat Blogosphere
White Wednesday for all Whitesters!
Whisker Wednesday … show off your whiskers.
Wordless Wednesday or Wordy Wednesday, you decide.
Wednesday is Gingersday too for all Gorgeous Gingers.
Way back Wednesday, for those who have come before.
Weird Wednesday for all sorts of strangeness.
Wondering Wednesday, to ask, or answer questions.
Bathing Beauties:
Now comes the hard part - the actual bath. First, your face and head should be cleaned with a moist washcloth. You should never have water poured over your head. It could get into your ears, eyes and nose, and hurt or frighten you. Once your head is wet, water should be slowly poured all over your back down to your tail. Then the shampoo is added.
"Do not dose the cat in either bath water or shampoo," Barry Nicholls, the chief executive officer of Animal Medical Center in Anniston, Alabama said. "Even shampoo formulated for a cat, if used in large quantities could damage and dry the skin." It can also be difficult to rinse out.
Soothing sounds including your caretaker's voice can help to keep you calm as can soft music. Being forced to take a bath is traumatic enough, loud sounds and harsh voices will only make it worse. Some cats suffer their baths in silence while others growl and hiss, but your caretaker should never growl or hiss back!
After the shampoo has been worked into you fur and you have gotten a total body massage - see it is not all bad! - you should have another bucket of water slowly poured over you to rinse you off. Make sure that all the soap is off before you get out of the bath, although by this time I know you will be ready to bolt.
"Make sure to towel dry when finished," says veterinarian Michael Siggers, owner of the Best Care Pet Hospital in Omaha, Nebraska. After you have been thoroughly wiped down, you should stay inside and away from breezes while you dry off. You will probably want to try to groom the water out of your fur and this is totally alright.
Some cats like to be blow dried, while with others, the noise bothers them. Blow drying can be nice as it is warm, but stay at least 8 to 10 inches away from the dryer so you do not burn your skin.
It should be understandable if you wish to give your caretaker the back of disrespect for a while and perhaps hide under the bed. But remember that he or she is your friend and was only doing this to help you. And besides, if you are mean to them for too long, you will not get any treats!
Tomorrow we will explore going to the groomers - or getting the groomer to come to you.
Make a donation of at least $2.00 to the Cat Blogosphere's Friends helping Friends fund by Easter (March 23) and DKM will send you some squiggles. Mom Robyn, Sanjee, ML and KC will distribute the funds to our friends in need across the blogosphere. Come on, you know you want one…
Visit
Cat Blogosphere
to donate to get your Squiggles!
Meezer in me?
Latte make a comment on my blog that all Meezers have the gene for black in them. This how they get their black points. I found this interesting and did not know this, but I will have to do some research on it now. Not that I am suggesting in any way that we open our membership up to Meezers...
Want to join House Panthers? Ask Not the Mama to e-mail you an invitation!
Find a new friend at Petfinder.com, the temporary home of 245,845 adoptable pets from 11,827 adoption groups. Over 9,000 house panthers are available around the country!