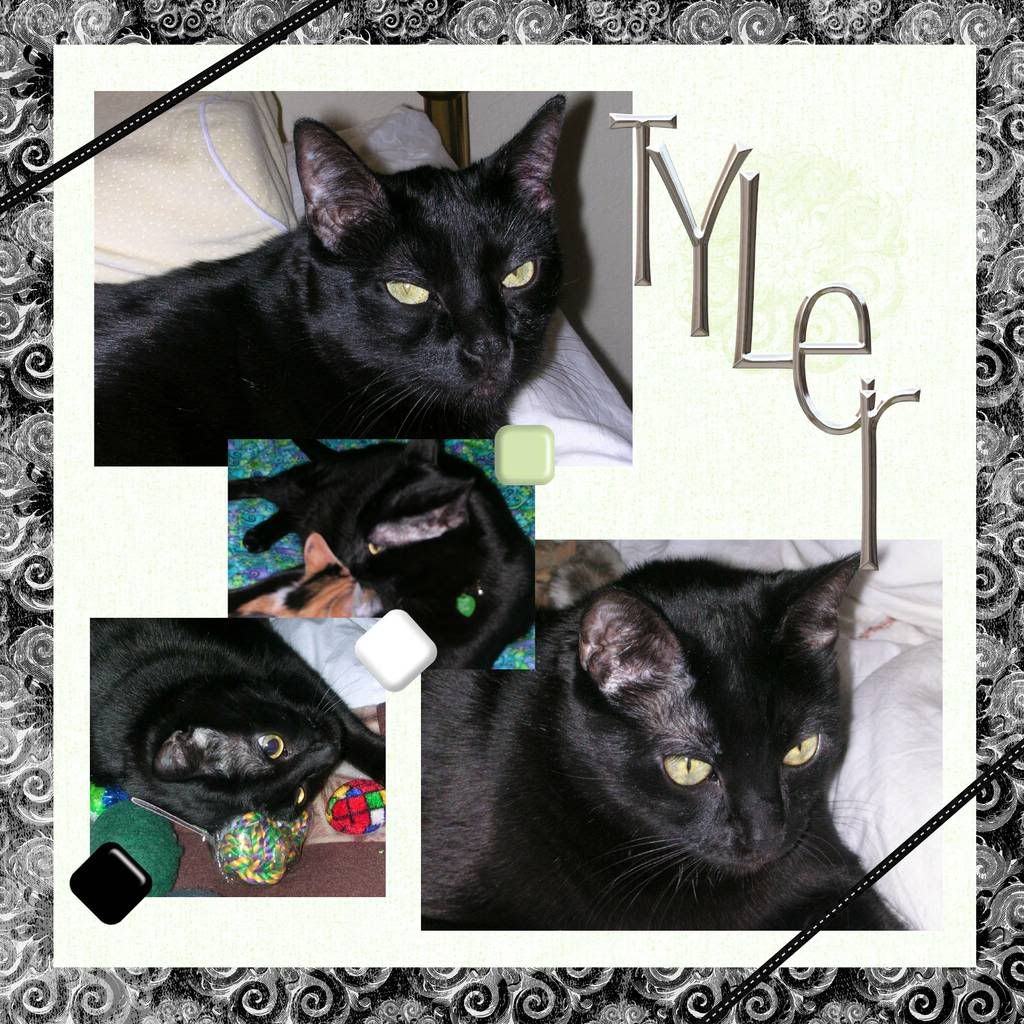 Click the image to Bigify it. Composition information can be found here.
Tyler is a 10 year old Black Domestic Shorthair who blogs at
Tyler's Tattles
. He was a rescue cat and lives with his four siblings: Kali, Cookie, Sophie and Jake, in San Jose, California.
Tuesday's Events at Cat Blogosphere
Tattle Tail Tuesday or other kind of tails, or tales as well
Tabby Tuesday for all Attack Tabbies (or other sorts of tabbies)
Tuxie Toosday for all Tuxedo Cats at the Tuxedo Gang Hideout
Tummy Tuesday for showing off all those kitty tummies
Toesies Tummy for showing those claws…errrr… toes
Tortie Tuesday with Tough A** Torties Club
Cats on Tuesday

AND NOW: Announcing Black Tabby Tuesday on House Panthers!
Bath Prep 101:
The first priority of your caretaker during bath time should be to get everything ready first. Your claws should be trimmed before the bath (if they are going to be trimmed) and you should be brushed as much as possible. If you have sticky stuff in your furs, you won't be able to be brushed, obviously. If you have matted long fur, the mats should be combed out or removed with an appropriate grooming clipper.
If mats are not removed ahead of time, the water will make them tighter and more hair will clump into the mats that are already there. This will pull more at your skin and hurt.
Your caretaker will probably want to have a friend around to help him or her out with your bath. This will allow him to have the materials he needs passed to him while he is working on you.
Keep the supplies that will be needed close on hand. Shampoo is the number one item you need. Purchase a shampoo specially formulated for cats. Your veterinarian can recommend a medicated shampoo if necessary. If you are bathing a kitten under the age of 6-months, use Johnson's Baby Shampoo. Do not use a medicated shampoo or flea shampoo as you can poison the kitten with it.
You will want to have at least one bucket on hand, but probably several and you will want to have them filled with warm water ahead of time. The sound of running water can frighten felines, so water should be poured over us via a bucket. You should NEVER put directly under the water stream from a faucet or shower!
You will also want to have several towels on hand, both for yourself and your caretaker, who is likely going to get wet during the bath as well.
Prior to bathing, make sure that a bath mat is put down in the sink, tub or shower to provide you with footing. If a mat is not available, have your caretaker tie a towel to the faucet so you will have something, other than human skin, to grab onto.
If you are going to have standing water in the tub or sink, it should only be 1/2 to 1 inch deep - no deeper. You really don't need standing water at all and many cats - and even woofies - dislike standing in water.
Note: While I know it is well known that cats do not like water - we are descended from desert animals after all and lack the undercoat to shed water quickly - there are many woofies that do not enjoy bath time either. These grooming tips may also be applied to woofies, to help them steady their nerves during bath time.
Tomorrow we will go through the actual procedure of getting a bath, so be sure to check back with us here at House Panthers.
Hallmark wants you!
Voting has begun n Hallmark's Your Pets contest, and if you are interested in checking out all the kitty and other pet photos that made the roster of finalists, visit
www.hallmark.com/you
.
For those that didn't get a chance to participate or who would like to submit another photo/card idea, Hallmark's started another contest called YourFunny*ness — they are looking for the most hilarious, side-splitting card in America and they are welcoming designs of all kinds — including cat photos, drawings, and more. Just send a card, any card, as long as it's funny and original.
Check out
www.hallmark.com/you
anytime between now and March 23 to upload a card design. Finalists will be selected and announced on April 14. America's choice for the Grand Prize winner gets another $1,000 cash (in addition to the $250 given to finalists) and a trip to Chicago to spend a weekend with Second City! Free tickets, a walking tour, a private workshop…and of course their concept on a Hallmark card sold in more than 3,500 participating Hallmark Gold Crown stores.
Want to join House Panthers? Ask Not the Mama to e-mail you an invitation!
Find a new friend at Petfinder.com, the temporary home of 245,845 adoptable pets from 11,827 adoption groups. Over 9,000 house panthers are available around the country!