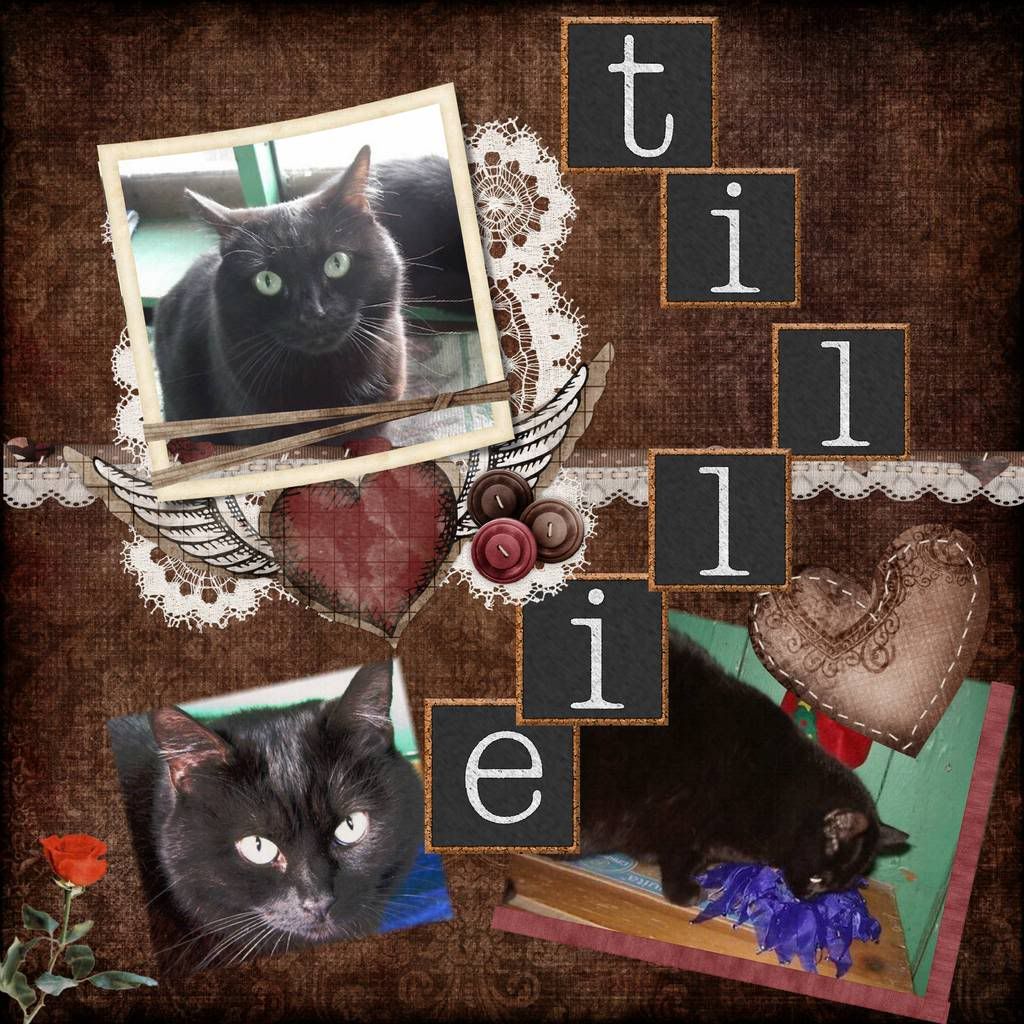 Tillie is Mickey the Black Cat's little sister, and at five years old, is just a mere kitten compared to Mickey. Because of this, she always get I.D.ed when she comes to visit Black Cat Pub; our bouncers take their jobs seriously!

Tillie and Georgia are litter mates. All three are Canadian cats, making their home in Nova Scotia.

This design was done mainly with the Digital Scrapbook Freebies Retrodiva Be Mine Pack, with letters from Shabby Princess' Dinner Party kit.
Monday's Events at Cat Blogosphere
Midnight Monday:
Come on House Panthers, show us your petty black furs!
***
It's Meezer Monday for all Meezers with Simply Siamese
Mancat Monday for all ferocious Mancats and mancats-in-training
Movie Monday for our Feline Fellini Furriends
I Don't Need A Bath!
Let's face it, we cats have always been clean creatures. We clean our faces after every meal and groom ourselves constantly and try to keep our furs immaculate. But sometimes, bad things happen to good kitty cats and you might end up in a situation where natural grooming will not take care of the problem. Then you must rely on your human to give you a dreaded B-A-T-H.
"Most cats are self cleaning," says veterinarian Andrew Guazzo, owner of a Cat's Place Veterinary Hospital in Fishkill, NY. "Many outdoor cats will get into dirt, oil and sap that needs to be removed. Cats that encounter skunks might need multiple baths to get rid of the odor. Motor oil and antifreeze might require specific therapy besides just getting rid of the substance on the coat.
"Remember, cats groom themselves a lot, so if they get toxins on their skin, they will try to lick it off and end up ingesting it, as well as the absorption that occurs through the skin itself. Some cats have specific conditions - such as fleas, mites, fungal infections or other primary skin conditions - that might require bathing or dipping (saturating the coat with a liquid that is left to dry on the animal without rinsing) as part of their therapy."
While baths often accompany such treatments, they are also common in the show and breeding world. Breeders often bath their cats before a show to ensure that coats are shiny, healthy, and clean. And, hairless cats (such as Sphyx) are quite used to getting a weekly bath to help remove the oil from their skins.
"Their tongues are too rough to care for their skin and remove the dead skin cells," Guazzo says.
One of the keys to doing way with the terror of the tub is preparation on your human's part. Tune in tomorrow for Bath Prep 101, here at House Panthers!
Be a featured Panther!
If you would like to be a featured panther, please
e-mail me
and let me know the location of your blog. There are so many members that I can't locate from the information on our blog, such as Apollo and Carmen. Other cats, such as Puddy at A Byootaful Life, I cannot use the picture for because the are too small a size. So I would need you send me images if you should wish to be featured. Please let me know if you are interested! We are an equal Panther featuring service!
Want to join House Panthers? Ask Not the Mama to e-mail you an invitation!
Find a new friend at Petfinder.com, the temporary home of 245,845 adoptable pets from 11,827 adoption groups. Over 9,000 house panthers are available around the country!