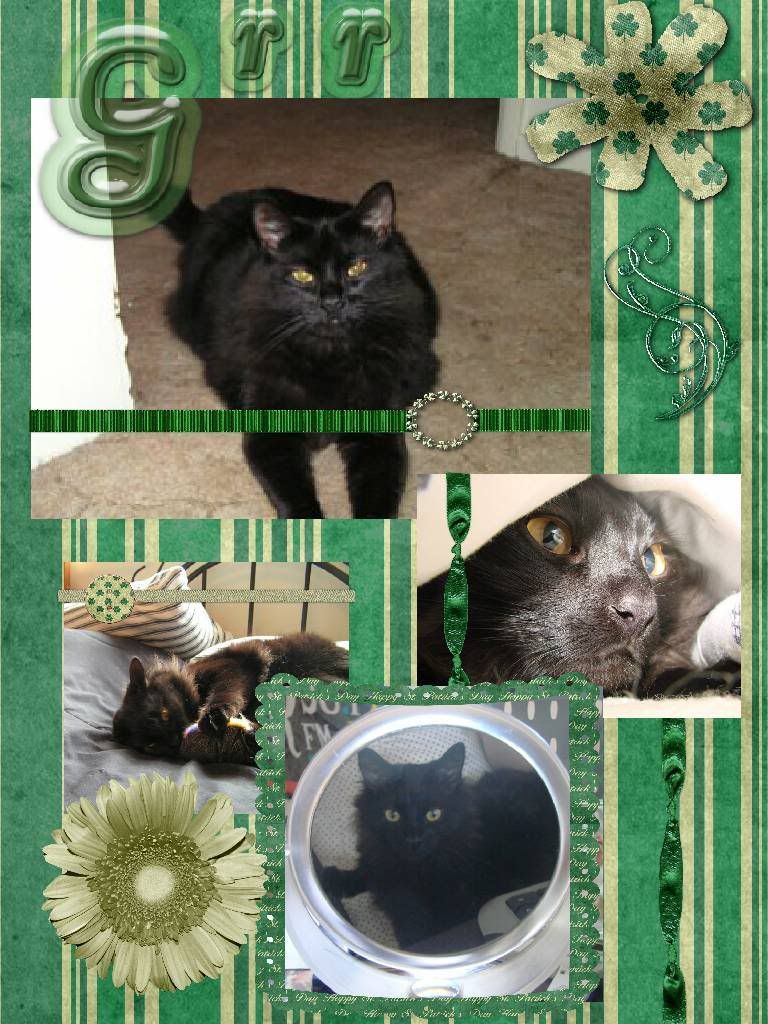 Click the image to Bigify it. For composition info, click HERE.
As one of the founders of House Panther's blog, Grr feels she is entitled to her own day. Grr, lives with her littermates Midnight and Cocoa in Lomita, California, and you can keep up with them on their blog which is cleverly called
Grr, Midnight & Cocoa
.
Grr likes to take her food out of the dish before she eats it. If her paws are dirty, she will wash them in the water bowl before she eats. She is very neat though when she eats at Black Cat Pub. With St. Patrick's day coming up, we felt she needed a touch of the Irish and are pleased to present to you Grr O'Malley on this Thursday GrrDay.
Thursday's Events at Cat Blogosphere
Thursday Thirteen, da big meme, aka TT or T13
Thankful Thursday
Thoughtful Thursday
Thursday is Grrday
Can't handle the bath?
Some Humans just can't handle the work involved in bathing us. Don't worry! There are plenty of groomers out there that will do the job. The trick is finding someone who is purrfect - both for you and your human.
"Do your homework," says veterinarian Kelly Jones, owner of Cat Hospital of Wichita, in Wichita, Kansas. "There are good groomers and bad ones. Sometimes you can be lucky enough to find a groomer that will perform any grooming at your house, which is the best." Ask if your human can be present during the grooming, so you are not left alone with strangers.
If the groomer you plan on using works at a facility, ask to take a tour. Check to see whether it's well-lit, how large the cages are and whether cats and dogs are kept separated. Sniff around, and see what the place smells like. Check to see how well-monitored the clients are, watch how the staff handles them, find out what kind of records the groomer keeps on each client and have your human speak to the staff to ensure that they are friendly, caring and knowledgeable.
Quiz potential groomers. Learn about their backgrounds - where they were educated in grooming, how long they have been in business, if they'll provide you with photos of some of their work, what professional organizations they're affiliated with and the type of client services they offer. Also find out if they have the skill to perform requested styling preferences.
Just as with woofies, different breeds of cats need to be groomed in different ways. Long hair varies from short hair. If you're going to get shaved or clipped, make sure the groomer knows the correct clip for your breed.
Choosing a groomer can be confusing, so getting referrals is essential. Speak to people you know - veterinarians, pet sitters, friends - and learn more about who they use for grooming. Ask potential groomers if they will provide contact information from prior clients, so you can discuss what kind of experiences they had with the facility.
Remember that for you, a groomer is just like a hairdresser for your human. They should use the same care in selecting a groomer for you, that they use in choosing their own barber or hair stylist.
Some idiotic town in Iowa
(which of course stands for Idiots Out Wandering Around) has put a $5.00 bounty on the catching of cats. The felines are then to be eliminated to reduce the feral population.
The mayor of this city obviously knows nothing about spay and neutering or trap and release programs. He could be killing someone's beloved pet without a second thought.
You can leave a message
HERE
against this Genocidal program. Tell them the Cat Blogosphere sent you.
Want to join House Panthers? Ask Not the Mama to e-mail you an invitation!
Don't Forget! Monday is Midnight Monday here at House Panthers! Show off your beautiful black coat!
Find a new friend at Petfinder.com, the temporary home of 245,845 adoptable pets from 11,827 adoption groups. Over 9,000 house panthers are available around the country!