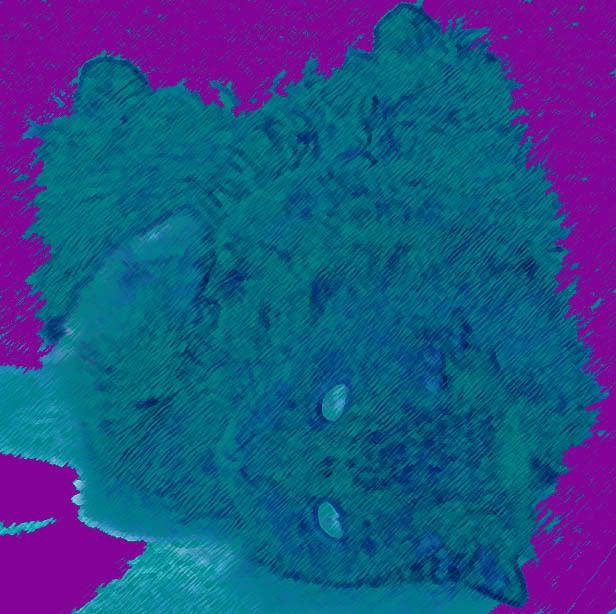 This is Meep, from Buzzerbee's Blog, using a modified colored pencil filter. Meep is an FIV positive rescue kitty that lives with his brother Bear and Twizzler, a Meeser.
Wednesday's Events at Cat Blogosphere
White Wedneday for all Whitsters!
Whisker Wednesday … show off your whiskers.
Wordless Wednesday or Wordy Wednesday, you decide.
Wednesday is Gingersday too for all Gorgeous Gingers.
Way back Wednesday, for those who have come before.
Weird Wednesday for all sorts of strangeness.
Wondering Wednesday, to ask, or answer questions.
Did you know?
There are food additives that support dental care.
Seaweed-based products can be sprinkled onto your food naturally counteract plaque on the tooth surface. Rich in minerals, iodine and amino acides, the active ingredients in these products are absorbed into the bloodstream and give your saliva the ability to prevent plague from forming and to soften existing tartar.
It also helps to eliminate bad breath. (I have absolutely no idea how it tastes.)
February is National Pet Dental Health Month. You can find out more at
Greenies.com
.
Cat Fancy Magazine
also running lots of info on
Cat tooth care
in their February issue.
From PetsitUSA.com Blog:
An 11 year old girl in Ijamsville, MD is working to help pets find loving homes. She's created her own website and invites people to email her so that she can match them up with pets in need of a home.
A sixth-grader is using Internet skills and a love for animals to pair up those looking to get rid of a pet with those looking to find one on a Web site she created herself.
Jennie Lupkin, 11, finds people looking for pets and people trying to live without them, e-mails them and eventually finds successful matches.
"Sometimes, people are trying to buy animals," her father, Richard Lupkin, said. "She'll suggest they try a shelter instead."
The sixth-grader at Oakdale Middle School in Ijamsville has several pets herself: a bichon frise, a hermit crab, two birds and fish. Her father is allergic to cats or else she said she'd have one of those, too. She wants a rescue horse one day so she can put to good use the riding lessons she's taking.
Jennie didn't start with her own Web site; her first match came with a cat named Jazzy at the Frederick County Animal Shelter and someone on Craigslist looking for a cat. She contacted the prospective owner about Jazzy and later the match was made.
She later created http://www.freewebs.com/frederickanimalcontrol with photos and stories of the animals up for adoption.
"The shelter seems to want me to try to find homes for cats," she said. "Dogs usually go in a week or two.
Want to join House Panthers? Ask Not the Mama to e-mail you an invitation!
Find a new friend at Petfinder.com, the temporary home of 245,845 adoptable pets from 11,827 adoption groups. Over 9,000 house panthers are available around the country!