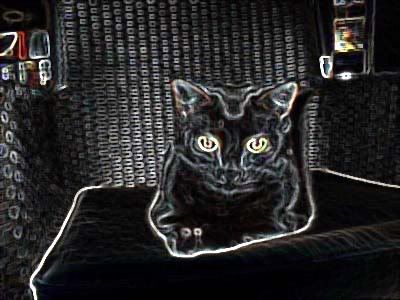 Persephone is the most persecuted of the House Panthers over at One Eyed Jack's, she just hasn't learned to blame things on those invisible bands of marauding woofies that come around. Or perhaps it's just the glowing edges that give her away?
Friday's Events at Cat Blogosphere
Hey you guys, it's Feline Friday!
Foster Friday started by Kat's Cat of the Day
Formerly Feral Friday for all formerly feral kitties
Finally Friday started by Gandalf & Grayson
Frootbat Friday for cats to show off their big ears
and it's Fashion Friday for our furry fashion diva furriends!
Board the Friday Ark at The Modulator
(submit your post here)
Weekend Catblogging!
Bad Kitty Cats Festival of Chaos 03-01-2008 Chandra & Samantha at New Tuxedo Gang Hideout
Optional Theme - Favorite Game
(submit your post here)
The Carnival of the Cats #207 3/02/08 is being hosted by Grace & the Kittens
(submit your post here)
Join Photohunters on Saturday. This week's theme is "party!"
Did you know?
Excess plague and tartar can lead to gingivitis (an inflammation of the gums), which can allow bacteria from the mouth to enter the bloodstream. From there, bacteria can travel throughout the body and cause problems with your heart, liver or kidneys.
Keeping plaque and tartar under control is the key to a healthy mouth and a healthy House Panther.
We hope that you have found our little column on Feline Dental Care this last week helpful. Remember to keep you teeth clean and show us those pearly whites when you're on the prowl!
February is National Pet Dental Health Month. You can find out more at
Greenies.com
.
Cat Fancy Magazine
also running lots of info on
Cat tooth care
in their February issue.
Pepper Needs Help!
Pepper, a Russian Blue, has Cholangitis (inflammation of the bile ducts) and can't keep food down. She also has Hepatic Lipidosis from not eating and must be force fed with a feeding tube in her neck. Her medical care and recovery is both expensive and lengthy.
You can read more about Pepper on
Pepper's Page
.
If you can help in any way, they really need to raise some funds to help Pepper. Thanks to
Jan's Funny Farm
for bringing this very serious matter to our attention.

Our fellow House Panther Alexi is a Russian Blue, so it would be great to help out this House Panther in need!


Want to join House Panthers? Ask Not the Mama to e-mail you an invitation!
Don't Forget! Monday is Midnight Monday here at House Panthers! Show off your beautiful black coat!
Find a new friend at Petfinder.com, the temporary home of 245,845 adoptable pets from 11,827 adoption groups. Over 9,000 house panthers are available around the country!