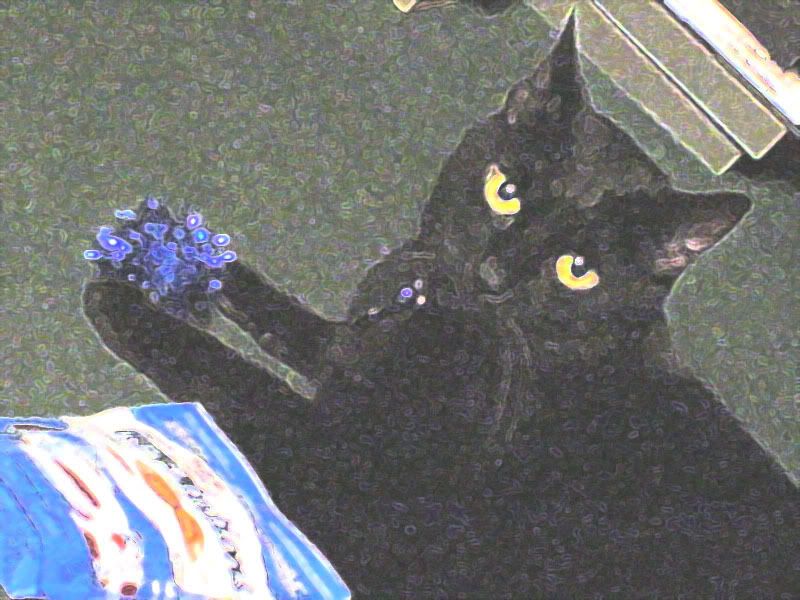 Smeagol lives with Strider, a tan and white bicolor, Gizmo, a tiger tabby, and Mystery, a giant green Iguana. He can be found at Tails of Two Kitties. Here he is painted up, along with his "precious" sparkle toy. Although I must say, those Temptations are pretty precious as well.
Saturday's Events at Cat Blogosphere
Saturday is Caturday with the cats at Coats of Many Colors.
It's also Photo Hunt day. This week's theme is "Party!" and we Felines sure know how to throw one!
Weekend Catblogging!

Find Weekend Cat Blogging (#143 Mar 1-2) with Mog and Meowza at The Mind of Mog

Bad Kitty Cats Festival of Chaos 03-10-2008 Chandra & Samantha at New Tuxedo Gang Hideout
Optional Theme - Favorite Game
(submit your post here)
The Carnival of the Cats #207 3/02/08 is being hosted by Grace & the Kittens
(submit your post here)
COMING THIS WEEKEND TO A CAT BLOGOSPHERE NEAR YOU:
Squillions, The Contest! Big contest. Big purrizes — including prizes for the winners and prizes that help out our furriends in need. Stop by
Cat BlogoSphere
to give it a whack.
The prize package from
KC & Company
: a collector's 2007 Original Squillions poster calendar; a Squillions tee shirt (XL); a KC reepurrter button; a Squillions button; a Kitty Cats Treat Kit (with recipe, catnip and fish-shaped cutter); sign (Lord, help me be the person my cat thinks I am) from Not The Mama's
Wren's Nest
; Nip Ravioli; Kitty Stickers; Cat Blogosphere 2007 postcard; a huge bag of kitty grass seeds from Poopsie Cats; plus cool stuff from Prairieland Herbs).
Domestic Cats' Origin
Many people know what dogs were domesticated from wolves, but what about cats? How did we come to live with humans? A study published in the July 2007 issue of the journal "Science" helps answer that question. Using genetic methods, scientists from the National Cancer Institute and the University of Oxford report that the origins of the common household cat can be traced back 100,000 years to ancestors in the Middle East. This much earlier than the earliest archaeological evidence of feline domestication that dates back 9,500 years to Cyprus.
By looking at the DNA of wildcats and domestic cats, the research team found five matriarchal lines from which all modern domestic cats have descended. Their ancestors, the Near Eastern wildcat, still lives in Israel, Saudi Arabia and other Middle Eastern countries. It is believed that the domestic cat's ancestors become helpful to early farmers by hunting rodents and that domestication evolved out of the relationship between humans and cats. In turn, cats followed their human companions as they migrated across the globe.
Pepper Needs Help!
Pepper, a Russian Blue, has Cholangitis (inflammation of the bile ducts) and can't keep food down. She also has Hepatic Lipidosis from not eating and must be force fed with a feeding tube in her neck. He medical care and recovery is both expensive and lengthy.
You can read more about Pepper on
Pepper's Page
.
If you can help in any way, they really need to raise some funds to help Pepper. Thanks to
Jan's Funny Farm
for bringing this very serious matter to our attention.

Our fellow House Panther Alexi is a Russian Blue, so it would be great to help out this House Panther in need!


Want to join House Panthers? Ask Not the Mama to e-mail you an invitation!
Don't Forget! Monday is Midnight Monday here at House Panthers! Show off your beautiful black coat!
Find a new friend at Petfinder.com, the temporary home of 245,845 adoptable pets from 11,827 adoption groups. Over 9,000 house panthers are available around the country!