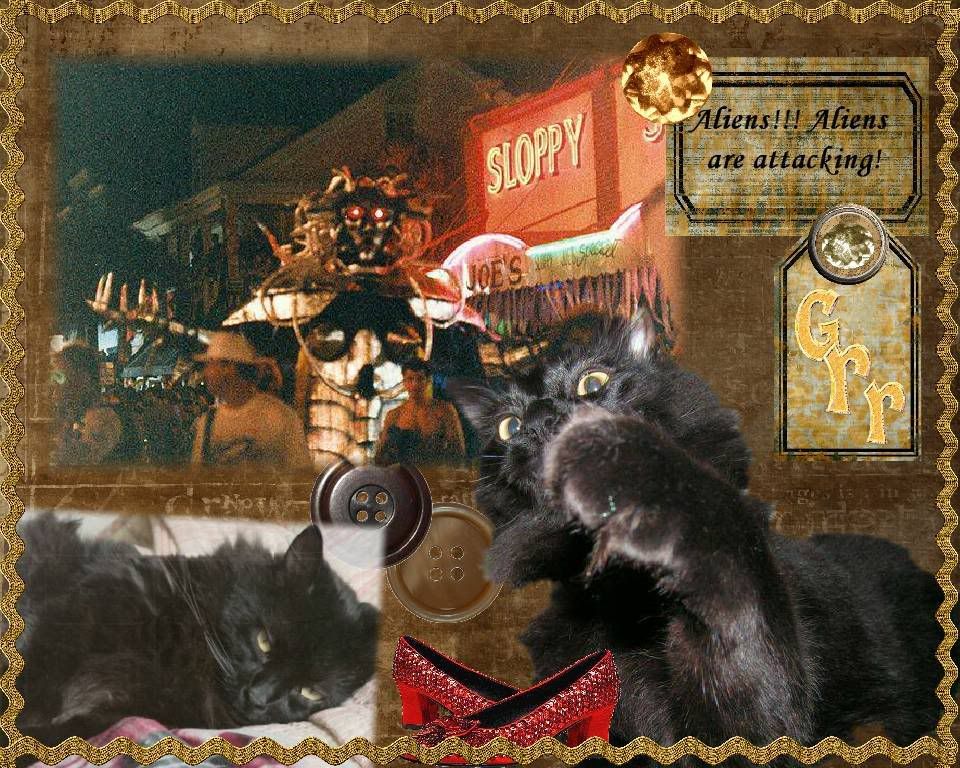 Click the image to Bigify it. Image Info.
Grr's Great Adventure (Part III)
Purrhaps, Grr thinks, it is all a bad dream. Purrhaps, she thinks, I should not have gone on that bar crawl but it was SUCH a nice T-shirt they were selling with the tickets. Purrhaps...
ALIENS!!!!
Suddenly she wakes up and discovers that
ALIENS ARE ATTACKING!!!!
What is she to do?
Should she be a fierce house panther and attack the thing, purrhaps saving the world? Should she hop on the next bus out of here? Should she retire to the bar for another niptini? Should she click her heels together three times and say "There's no place like home"?
But wait, she didn't pack her ruby slippers....
Thursday's Events at Cat Blogosphere
Thursday Thirteen, da big meme, aka TT or T13
Thankful Thursday
Thoughtful Thursday
What is a Cat?
Cats do what they want.
They rarely listen to you.
They're totally unpredictable.
They whine when they are not happy.
When you want to play, they want to be alone.
When you want to be alone, they want to play.
They expect you to cater to their every whim.
They're moody.
They leave hair everywhere.
They drive you nuts and cost an arm and a leg.
Conclusion: They're tiny women in little fur coats.
Cat Friends Helping Friends (CFHF) is running a special to benefit Laura who lost so much on Friday April 11, due to a fire at her apartment complex. Laura is the mom to Lilly Lu, Iris and Mu shue who have been blogging since 2006.
Darling Millie's mom has graciously donated a Gizzy Quilt to raffle specifically to benefit Laura.
The raffle is being held online at
http://www.catfriendshelpingfriends.com/
and runs through midnight EST, April 18, 2008.
While CFHF was formed with the mission to assist our fellow cats, rabbits, dogs or other small house animals, in light of this extraordinary event we are doing this to help Laura directly, even when we still did not know if Lilly Lu, Iris, and Mu shue would be found. We are happy to say that they have been found and are doing well.
Everyone at CFHF hopes that you can open your hearts to assist Laura and the kitties in her time of need.
Want to join House Panthers? Our membership is open to members of the black, grey (Russian Blue) and dark brown (Bombay) clans. Ask Not the Mama to e-mail you an invitation!
Don't Forget! Monday is Midnight Monday here at House Panthers! Show off your beautiful black coat!
Find a new friend at Petfinder.com, the temporary home of 245,845 adoptable pets from 11,827 adoption groups. Over 9,000 house panthers are available around the country!