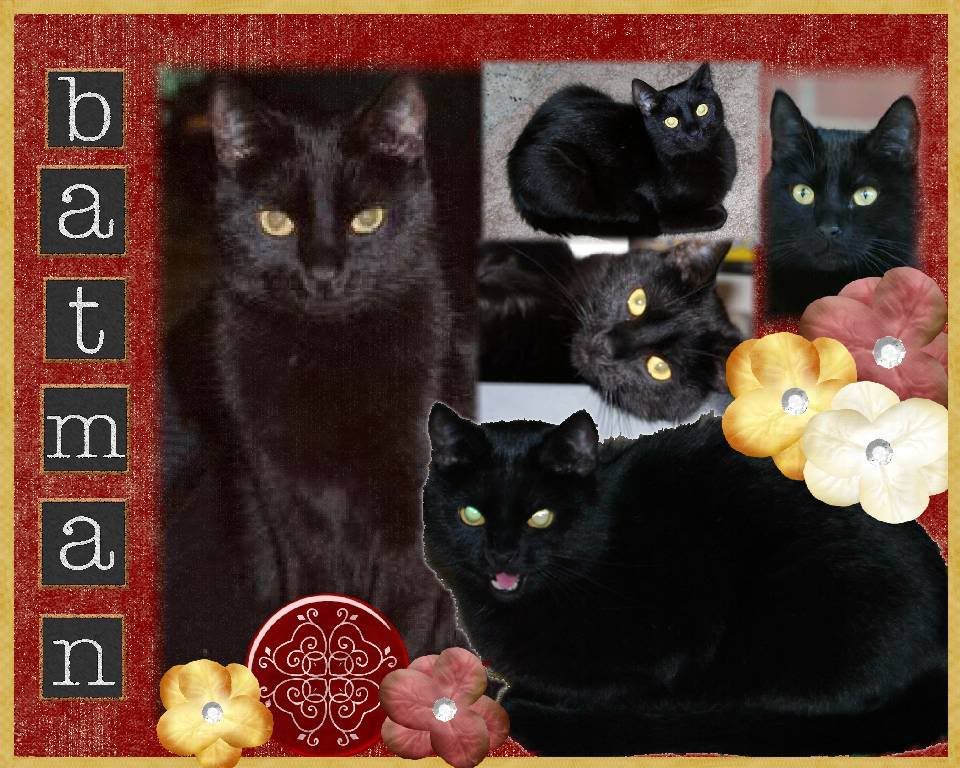 Click the image to Bigify it. Image Info.
Batman is one of the Turkey Cats along with Reggie, Riley and Abigail. They all came together as a group rescue from an organization called Fancy Cats, and recently turned 3-years old.
Batman is the reason for the Blog at
Turkey Cats
. He wanted to do Mancat Monday.
Batman's fur is very soft and shiny. He is fascinated by the DVD player and the flashing lights. He loves to help his daddy put a new movie in the player. He also loves to pose for the camera. One time when he was young, he posed for about 20 minutes in several positions like a model.
He is in no way as evil or demented as this layout makes him look. In fact, I hear he is a great big cuddle bug.
Batman fancies Jack's sister, Persephone, who also belongs to the House Panthers group.
Tuesday's Events at Cat Blogosphere
Tattle Tail Tuesday or other kind of tails, or tales as well
Tabby Tuesday for all Attack Tabbies (or other sorts of tabbies)
Tuxie Toosday for all Tuxedo Cats at the Tuxedo Gang Hideout
Tummy Tuesday for showing off all those kitty tummies
Toesies Tummy for showing those claws…errrr… toes
Tortie Tuesday with Tough A** Torties Club
Cats on Tuesday

AND NOW: Black Tabby Tuesday on House Panthers!
CUDDLE UP A LITTLE CLOSER
Some of us just aren't cuddle kitties and if we try to jump out of your arms, don't force us to stay. (Put us down gently, don't let us jump.) You can build up our confidence for a snuggle by picking us up frequently for a quick cuddle, and can extend it usually by a few seconds or minutes each time.
Note that some of use will only tolerate this if we think it's our idea. I'm not one for being picked up, but I've been working with my Bean on it and am getting better. (She says she like an arm full of crabby tabby now and then.)
Most cats like to be petted on their forehead, between the ears. WE also like to be petted under the chin and along the throat. If we trust you a lot, we'll roll over onto our backs for you to scratch our tummy. (I LOVE TUMMY RUBS!)
Always pet a cat in the direction of its fur, and be aware that the spot just above the tail is sensitive - some cats like being scratched there, others hate it. Some cats can tolerate only a few minutes of being petted, while others will happily fall asleep in your lap, being petted for hours.
Want to join House Panthers? Our membership is open to members of the black, grey (Russian Blue) and dark brown (Bombay) clans. Ask Not the Mama to e-mail you an invitation!
Find a new friend at Petfinder.com, the temporary home of 245,845 adoptable pets from 11,827 adoption groups. Over 9,000 house panthers are available around the country!