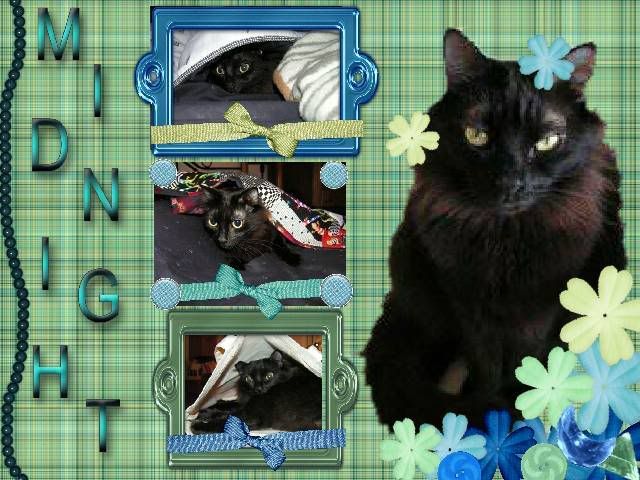 Click on image to bigify it. Image Info.
Midnight, Cocoa and Grrr were all feral kittens found living under a junk car in 2005.
Midnight gets a lovely red ruff around her neck in the winter, that sheds out in the summer. She has close bonds to both of her siblings, all of which share a blog at
Grr, Midnight and Cocoa
.
Midnight was previously featured on House Panthers on Monday, March 3rd.
Sunday's Events at Cat Blogosphere
Easy Like Sunday Morning
Strolling Sunday
Spotty Sunday
Suddenly Sunday
Weekend Catblogging!

Find Weekend Cat Blogging #147 (Mar. 29-30) is being held by Amar and Luna at CatSynth.

Bad Kitty Cats Festival of Chaos #38 (03-30-2008) with Megan & Bad Kittens Three at Bad Kitty Cats Journal.
Optional Theme - Eyes or Ears
(submit your post here)
The Carnival of the Cats #211 (3/30/08) is being hosted by Nikita's Place
(submit your post here)
Facts about Fostering
Could you be a foster parent to a cat? Though animal shelters house thousands of cats, there are still staggering numbers of strays that these facilities simply cannot accommodate without the help o£ foster homes. Foster families open their hearts and homes to cats in need, enabling these organizations to help more cats. Although finding enough dedicated foster homes is a daunting task, fostering saves countless needy cats.
Despite aggressive spay and neuter programs, the number of cats entering shelters has increased – perhaps as much as 20 percent since 1996. More cats mean that shelters are often cramped for space. Foster homes often take care of cats that aren't ready for adoption. This creates space in the shelter, which allows the facility to help those cats that are ready to go to their forever homes.
Itty Bitty Kitty Committee
is a good example of this kind of fostering, as they take care of kittens until they are old enough to be spayed or neutered and then help to place them in new homes. Besides adorable pictures, they place profiles of each of the kittens on their blog.
Fostering is a better solution and a much more humane option for cats that don't do well in cages or that have been in a rescue organization for a long time. Cats that live in a foster situation stand a better chance of being matched with the right home, since the foster parents often participate in the adoption by communicating with prospective owners and following up after adoption, making transitions smoother and increasing the chance that the cat won't be returned to the adoption agency.
My Bean and her family fostered woofies back when she lived in O Hi O, and Not the Mama - he of our own House Panthers - recently helped out by
fostering Callie
.
Want to join House Panthers? Our membership is open to members of the black, grey (Russian Blue) and dark brown (Bombay) clans. Ask Not the Mama to e-mail you an invitation!
Don't Forget! Monday is Midnight Monday here at House Panthers! Show off your beautiful black coat!
Tuesday is Black Tabby Tuesday for all you black tabbies out there, Wednesday is Blue Wednesday for our Russian Blue members,Thursday is Grrday, and Friday is Formerly Feral or Foster Friday.
Find a new friend at Petfinder.com, the temporary home of 245,845 adoptable pets from 11,827 adoption groups. Over 9,000 house panthers are available around the country!