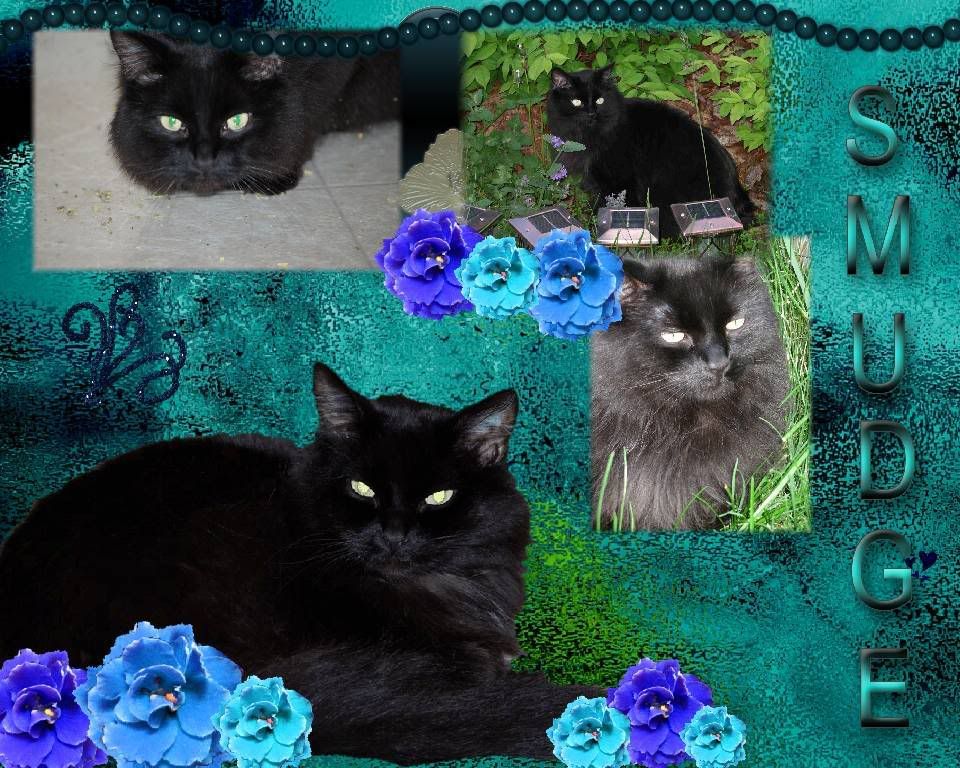 Click on the image to bigify it. Image Info
Smudge was the founder of House Panthers. He was diagnosed with CRF in November of 2006. At the time it was believed that he had six months to a year to live, but he has since made it past that and seems to be doing well with the one remaining kidney he has.
Originally he lived with Magoo, Bella and Dolce and blogged at
And then there were four...eh?
However, after he became sick, he began to associate his human Dad with the Vet visits, and decided that house was not his home anymore. He moved in with his Grandmaw and now lives with his new sisfur Chloe where he is more comfortable.
We don't hear much from Smudge these days since his Gramdmaw is not a blogging type human, but he seems happy and was last reported (Nov. of 2007) as doing well there.
Thank YOU Smudge, for starting this wonderful group for all House Panthers!
Saturday's Events at Cat Blogosphere
Saturday is Caturday with the cats at Coats of Many Colors.
It's also Photo Hunt day. This week's theme is "High."
Weekend Catblogging!

Find Weekend Cat Blogging #147 (Mar. 29-30) is being held by Amar and Luna at CatSynth.

Bad Kitty Cats Festival of Chaos #38 (03-30-2008) with Megan & Bad Kittens Three at Bad Kitty Cats Journal.
Optional Theme - Eyes or Ears
(submit your post here)
The Carnival of the Cats #211 (3/30/08) is being hosted by Nikita's Place
(submit your post here)
A Pair Affair
When our furriends Riley and Rascal were adopted into the Grr family, it was because they were found together, abandoned. Indeed, Grr herself, was found with her siblings Midnight and Cocoa and the family was kept in tact. This may have been a matter of sentiment on the part of the Lady and the Formerly Blond Girl, but it now seems that it was the correct thing to do.
Adopting a new kitten can be a fun and exciting time for most families. However allowing a cat into ones life is a larger commitment than many humans believe. Many shelters are implementing an adoption-in-pair policy as a new requirement. I have seen this on
Itty Bitty Kitty Committee
blog as well, as they wish the kittens to go to their new homes in pairs.
Cats are social creatures and the majority enjoy companionship and live longer, happier lives with a buddy. One of the most common reasons kittens are returned to an adoption group is because they are left alone all day. They can become biters out of frustration and can develop anti-social behavior towards people and other animals.
Kittens will become most active once they are 7-8 weeks old. They are high energy and require at least 4 hours of interaction per day with another kitten or cat to become a well socialized animal. Playing together is a complex learning activity that can assist with building the coordination and flexability. It can also help them develop social relationships and helps them hone their physical and mental skills. Play provides an outlet for pent up energy and can prevent potential behavior problems, eliminating boredom. When two kittens, ideally littermates, are adopted together, they keep each other company while their human companions are not at home. They will interacting with each other and mimicking the other's actions. If one kitten is quick to learn appropriate behavior, the other will be likely to follow.
Engaging in play is not only fun, but an instinct that contributes to their natural maturity and growth. Two kittens learning together helps create a better transition for them to grow into a well behaved adult cat. Those who are raised together have the chance to be lifelong friends and of course two lives would be saved, instead of just one.
Win a FURminator!
If you haven't been FURminated yet, you don't know what your missing. It gets all the extra loose hair out of your coat, gets all the itchy places scratched good AND makes your coat incredibly soft and silky.
PetsitUSA.com is giving away a FURminator. Two FURminator packages will go to cats and two to dogs.
Visit their contest page to find out how to sign up!
Good luck and happy deShedding! Contest ends April 11th, so don't delay!
Want to join House Panthers? Our membership is open to members of the black, grey (Russian Blue) and dark brown (Bombay) clans. Ask Not the Mama to e-mail you an invitation!
Don't Forget!
Monday is Midnight Monday here at House Panthers!
Show off your beautiful black coat!
Tuesday is Black Tabby Tuesday for all you black tabbies out there, Wednesday is Blue Wednesday for our Russian Blue members,Thursday is Grrday, and Friday is Formerly Feral or Foster Friday.
Find a new friend at Petfinder.com, the temporary home of 245,845 adoptable pets from 11,827 adoption groups. Over 9,000 house panthers are available around the country!