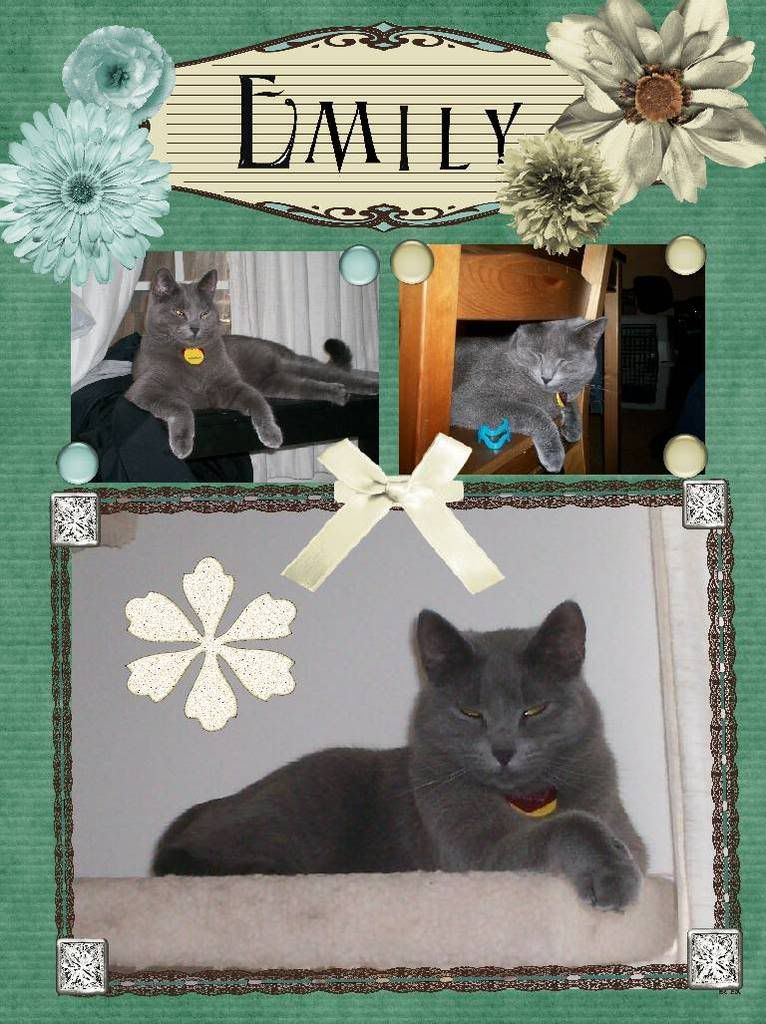 Click the image to bigify it. Image Info.
Emily
is a 2 year old Domestic Shorthaired who lives the rest of
The Cats Stephens
in Richmond, Virginia. She was a rescue and a pound cat.
She loves playing with her Whirley Bird, or playing Thundering Herd of Elephants with Eliot and Abbie. She likes being up high, preferring to rest at the top of the cat tree or on the upper level of the Cat condo. She does not like being picked up (and I do not much blame her there).
As I mentioned before, while Abbie is the actual House Panther of the group, Emily makes a lovely edition to our Blue Wednesday clan.
Wednesday's Events at Cat Blogosphere
White Wednesday for all Whitsters!
Whisker Wednesday … show off your whiskers.
Wordless Wednesday or Wordy Wednesday, you decide.
Wednesday is Gingersday too for all Gorgeous Gingers.
Way back Wednesday, for those who have come before.
Weird Wednesday for all sorts of strangeness.
Wondering Wednesday, to ask, or answer questions.
Here at House Panthers, it's Blue Wednesday for all our Russian Blue Members!
FELINE ORTHOPEDIC TROUBLES
Michael J. Slawienski, a veterinarian at Akron Veterinary Referral and Emergency Center in Akron, Ohio, says he sees broken legs frequently in the emergency clinic. Many are indoor/outdoor cats that were hit by cars or fell from trees and buildings; however, indoor cats are not immune to breaks. Symptoms include limping or hesitance to put weight on the leg, swelling, uneven shoulders or pelvis, hearing bone grinding on bone or seeing the bone protruding from a wound.
Slawienski advises placing the cat in a carrier or box with easy access so it doesn't have to move getting in or out of the box: Try to keep the cat quiet and get it to the veterinarian immediately to avoid further damage to bones or organs (from bones protruding into them).
During the exam, the veterinarian will watch the cat walk, feel the area around the break and X-ray it. Some breaks can be treated with a splint. In severe breaks, surgery might be necessary. Surgery might be delayed for several days to decrease swelling and to ensure that the cat is stable enough for anesthesia.
Though extremely serious, pelvic fractures might be treated with strict immobilization, such as confining it to a cage for several weeks. The high number of nerves and blood vessels in this area makes surgery more difficult. Most fractures heal well with proper care, but open fractures are prone to infection, which makes recovery more difficult.
X-rays usually are done every 4 to 6 weeks to monitor the break's progress. The veterinarian will provide instructions for care. They usually include a balance of rest and physical therapy, most of which can be done at home. Close adherence to these instructions will increase the cat's chance of complete recovery.
TAIL TRAUMA
While painful, most tail breaks aren't serious, unless they occur very close to the hind quarters. According to Alan 1- Schulman, owner of Animal Medical Center of Los Angeles in West Los Angeles, this is because the nerves at this level control bowel and bladder functions, and tail movement. The cat might be incontinent or unable to urinate on its own. In the latter case, a veterinarian might need to manually express urine from the cat.
Schulman also says that amputation might be necessary, but there never should be a rush to do this. Try non-surgical treatment for at least 30 days before having surgery attempted. Nerves sometimes can regenerate, and the cat may regain some function. In very severe cases, "the cat eventually might have to be put to sleep because its quality of life is so severely impacted.
From the PetsitUSA.com Blog:
4-H kids raise money for pet oxygen masks
Children in the Paws 4 A Cause Dog 4-H Club recently helped an injured dog, even though they weren't present when the dog was hurt.
The Monmouth County club donated pet oxygen masks last year to emergency medical services squads3 and several fire departments in the county. In early January, when a small gray-and-white dog became trapped beneath a small sedan on Prospect Avenue in Little Silver, one of masks helped, says Peter Giblin, a lieutenant with the Little Silver EMS squad.
"The dog got wedged under the car. Our fire department and EMS responded. They lifted up the car and pulled the dog out. We administered oxygen with the mask, which calmed the dog right down. It worked out great," Giblin says. The dog was treated by a veterinarian and is fine, he says.
"We had a dog die in a fire two years ago. These masks might be able to help a dog with smoke inhalation," adds Giblin, a dog lover and borough firefighter. "It's an outstanding program. I'm very impressed with the kids."
The club — with 29 youths ages 6 through 18, about half boys, half girls — started the project last June, says club co-leader Esther Murphy, 47, of Spring Lake Heights. Her daughter Monica, 13, is club president. Joanne Risa of Tinton Falls is the other co-leader.
Want to join House Panthers? Our membership is open to members of the black, grey (Russian Blue) and dark brown (Bombay) clans. Ask Not the Mama to e-mail you an invitation!
Find a new friend at Petfinder.com, the temporary home of 245,845 adoptable pets from 11,827 adoption groups. Over 9,000 house panthers are available around the country!