So we do a couple of things last night. First Bean go through her bead collection and she find these beautiful antique rose beads. I do not like to wear beads much because they always fall funny and seem to strangle me, but Bean wishes me to get used to wearing beads, especially since most of the things we have for St. Patrick's Day involve beads. She THINKS she know to solve the problem to make it more comfortable for me to wear beads, but...that not what is post is about.
Even though I am making a face about having to wear the beads, you can see that they are very pretty.
So then I settle down and we take some pictures with the beads. The other thing is that Bean has a program called Photo Suite 4 which she got as part of bundled software, she thinks when she buy her scanner. It has a lot of cool features on it that makes it easy to design projects like greeting cards and calendars. But it also makes collages and puts edging on pictures. She has used it to make collages to use as wallpapers of her baseball teams/players, but she said she will work on a collage of me this weekend, in part because
Janagraphics make such nice collages for Not the Mama's cats
. I especially like the one of Spooker.
But last night she play with the border feature. These are two different pictures we took. The first one uses just a plain white border: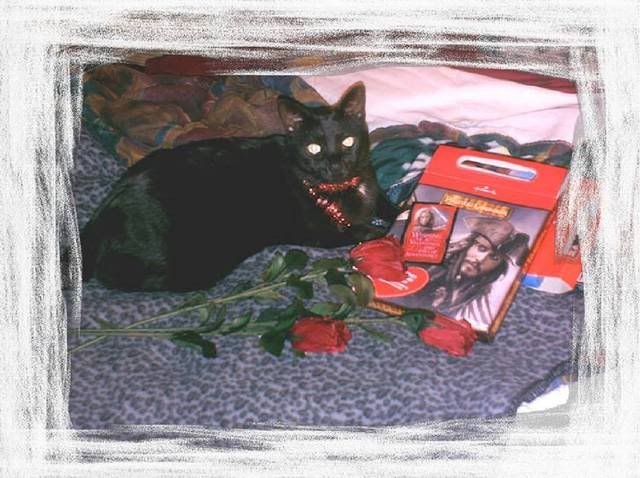 This looks nice on white backgrounds. The second one adds in some red for Valentine's Day into the boarder: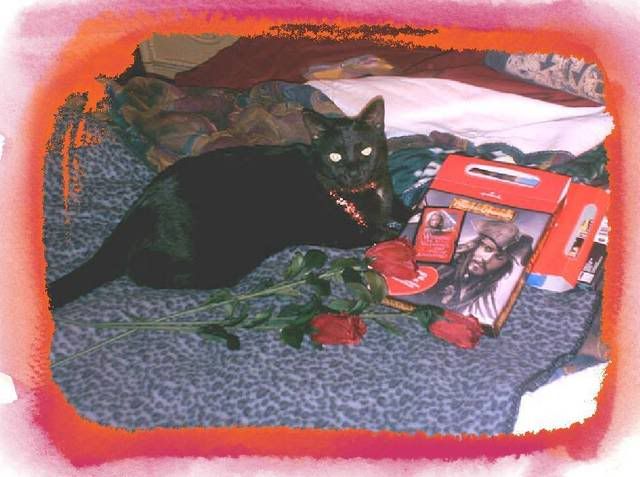 I thought these turned out very nice. I cannot wait to see collage now!
On a side note:
Wednesday night we watch A Knight's Tale. After sleeping on it, she wake up Thursday and say "I have this great idea! We can put little action figures on you back and we can have Kitty Jousting!"
I ask if she think that up all on her own or if the village idiot help her with the idea. Like I am going to stand still for her to perch Action Figure on my back?
Foolish Human.