A Story from out of the past.
A story about our little House Panther, MikiCato and his Riding Horsey/Thingie/Whatever!
One upon a day one time not too many years way back ago ...... It was a relatively quiet afternoon. Everyone was relaxing in the fun room of Five Oaks Manor deep in the SouthWoods. Miki was scrabbling around the foot rest/riding horse/cat play thing when Buddy walks in all inquisitive and nosy .....
Buddy Bear says ... "Whas wrong wif da ridey horsey thing lil Bro?"
MikiCato says... "I just checking ..... sometim been rattllin under dere"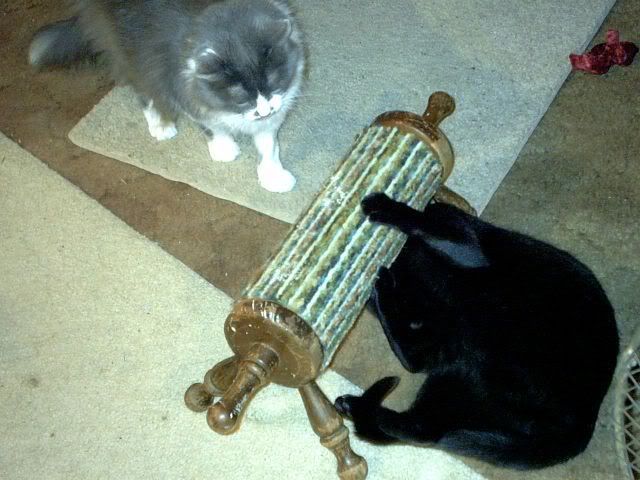 Buddy says... "Did you maybe be shakin your head when you went under dere?
Dat could be where da rattliln comin from yaknows?"
Miki says... "You make fun of me agin Big Bro I hides my head an cries!"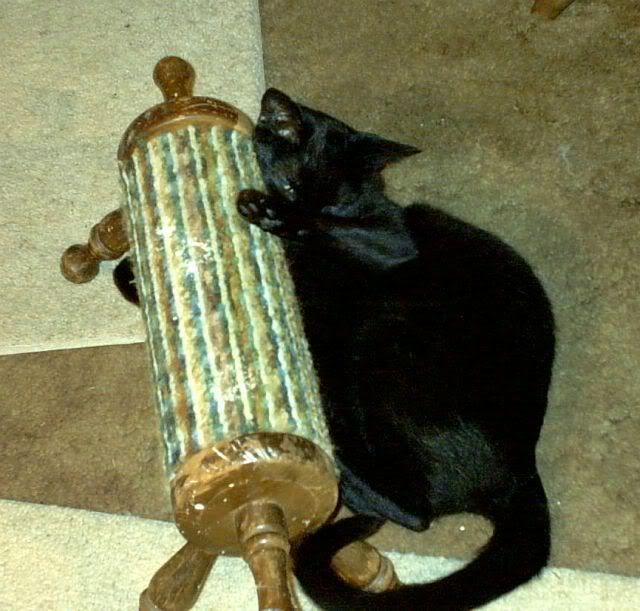 Buddy says... "It nothing to loose your head overs Bro! Still
you looks good when you hides da head dat way.
Don scare da mousies wif da look you gots den!"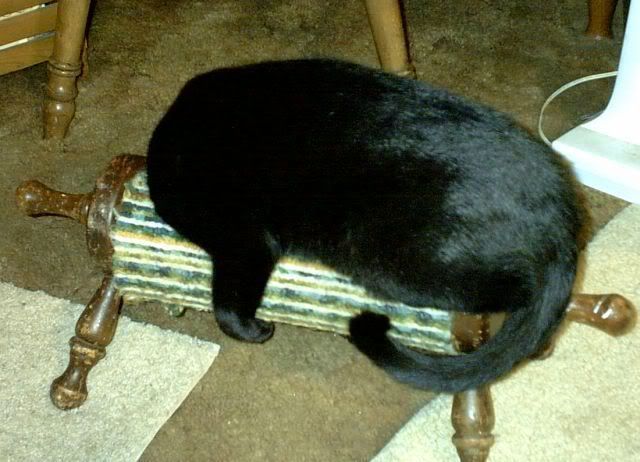 Miki says... "I allays gets interrupteded when I go to make da ridey horsey
bed looks an works betterer!"
Buddy Says... "It look good enough when no on one it, why tryies to mess
wif Mother Natures and da beans what boughted it for us kitties an go tears it up?"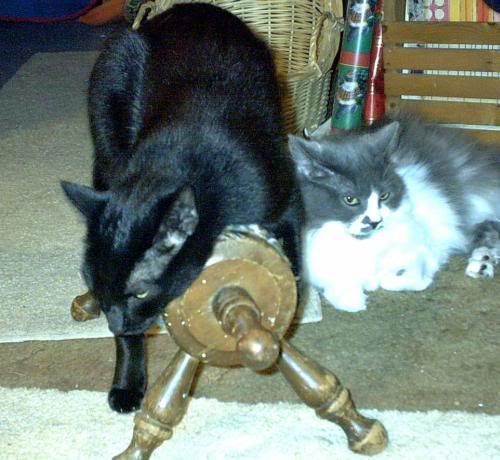 Miki says... "Still I says I heared rattlin when I wen under dere ..... I knows I did!"
Buddy says... "Das just somethin you make up so we feels sorries for yourselves an
you gets to ride da thingie first. Is not fair acktuallie, cause you allays falls asleep up dere."
The Large one here! "I think the riding horse thing we found at the Flea Market one day a few years back was a great success with Miki. Not sure Buddy, Tegar and Rowdy got much fun out of it. That little House Panther was always on or under the thing, scrabbling around, lazing, snoozing ..... well mostly snoozing! Maybe that's why the other ManCats didn't mess with it. He was always sleeping on it."