It me agin,
MikiCato,
coming to yous from da
SouthWoodsUSA
hideaway we calls
Five Oaks Manor
. Da place be home to Me and da gurlkitties and da boykitties, and we, collektively, is called Da
6 Mouskateers of Five Oaks Manor.
So, you tinks dat a way too much introductioning and blabber about ourselves and our Beans and our homeplace? Live wif it Bubba! I a Southren Gentlemen kitty, and I loves my roots. Aktually, I don know what my roots is other dan I be all kitty, some Oriental types, but thats to be expectated since we all comes from day big one,
Bastet
! I gets into dat stories anudder time. Rat now I gots a bitchy story for everbudies.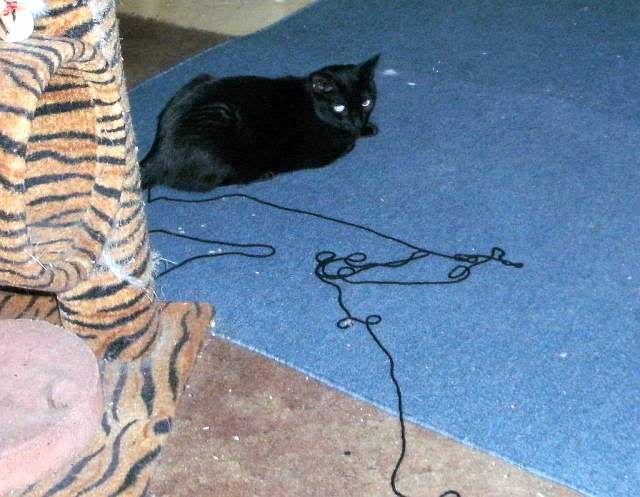 Large One done showed up on da web one day wif dis!
I know it me. An I know it not a fakedup pikture.
I wuz dere and da yarn was dere,
But I didn don it! NOT!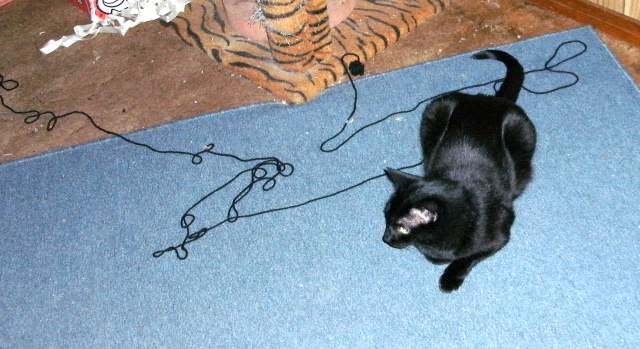 Large one say he cotched me in da akt.
I beggs to differs. I been setted up!
I don do no such mess an such.
I a good, decent, honorable, no nonsenses kitty!
Hones!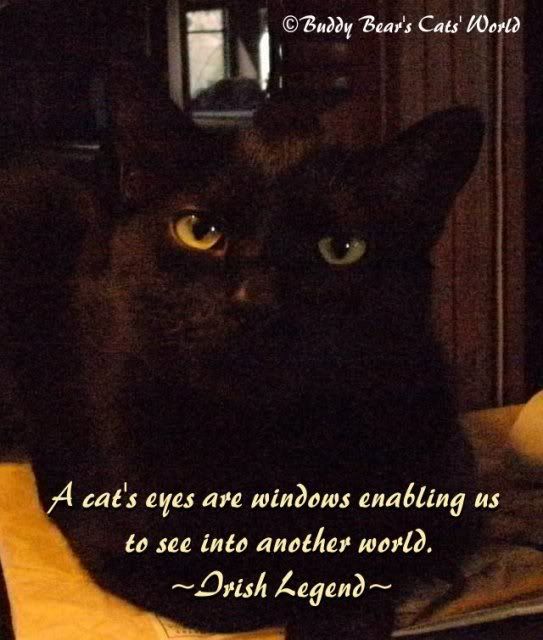 Jus you looks into dese eyeballs.
Does I look like I innercent or what?
It were da baby kitty, da bad boy, Rowdy, Da Heathen
what did it befores I getted up for my midnight romp.
Sos I can hold my heads up high, keeps my pride and knows I is not in da
Dorg House
here or anywheres else, I repeats my statemen:
" I didn done it, Hones I dint!"
Roy Sr here! He may, or may not, have NOT done it, but I didn't scold or punish. At least, if he DID do it, he didn't run hide like some other kitties I know of. I'll refrain from mentioning any names here, since they are NOT House Panthers. Well, one is, but she is outside on the Cat Porch. (You'll meet her when Miki can talk her into posing and helping with the typing.) Her name is Miss Princess.
I'm gone too .....