Hello all you handsomes and beauticious House Panther Boys and Gurls!
Today I talks bout da Large One and his flashy/clicky box and all da times he done shoved dat thang in my face/muzzle. I gets all googgledy eyed when dat ting make wif da sunlight blink. So, da las time he done made it flashy in my eyes I don gived him an ultematimum type warnin/threat. Not sure it sunked into dat big hairless ole head, but did is what I did.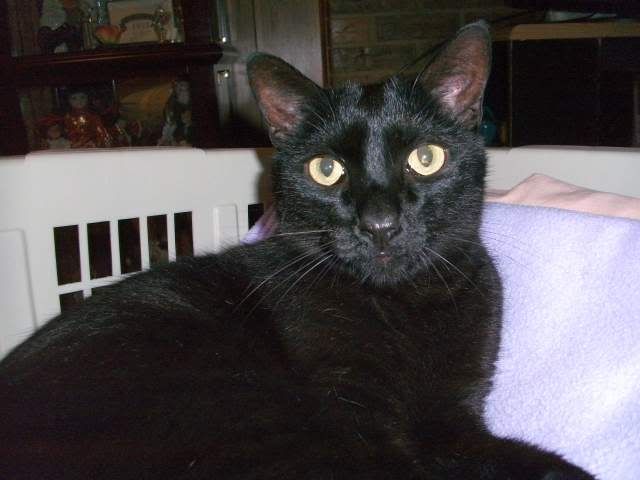 I wuz protectin my bed linens/blankies in da laundry baskit
when da Large One popped da blinky ting in my eyeballs.
I gived him da look
But he done squatted down byside dat baskit
and I knowed rat dere he were gonna make blinky agin.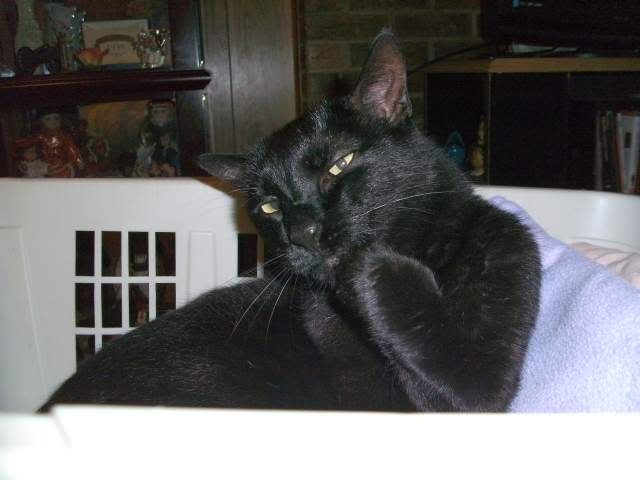 So I went into my speachy ting.
Acorse I knows him don't unnerstands kitty talk
so I did the big Mime bit. I good at mime aktually.
I sed to himself I sed
"You seez dis paw I holds up here?
Les me shows you somethin bout dis paw."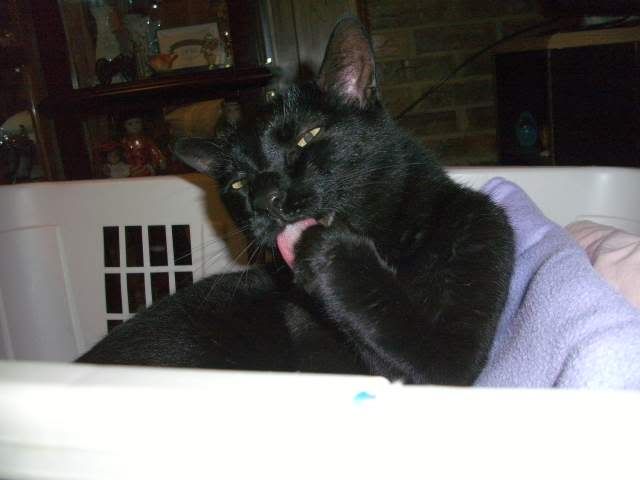 "Dis paw gots a sekret button thingy built in
so when I gets mad and don wans no more
of somethin or somebodies.
I just aks lak I be washin my tootsie,
when acktually I is pushin da button."
Havin sed dat, I did push da secret button,
an at da same times I puts on da 'I whops old butt' face.
Well, as all cats knows, when da secret button be pushed,
out comes da secret wepons, da CLAWS.
I seys to da Large One I seys,
"Clicks one more times in my face and I use dese
Ninja Kitty weapons on YO face!
Corse I wont use dem on hims, but hims don knows dat.
Well him done gots up, backeded up a bit, sitted down in hims chair at the beans eaty table, and said to da
Small One
,
"You know I don't think he likes me using the camera Hon! Maybe YOU should take the snaps from now on."
Whatevers. Him not takes no more piktuires or whatchamakallits snappys since den. I lets you know iffin it worked. Iffin it did we gots it made. NO MOR flaslhy in da face. Meowrrh! Paws crossed!
Laters .....