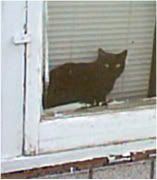 She was given a Forever Home by my friend Bessie, and has been very happy since. Inkie is very shy of all people, except for Bessie, and the only way I was able to get a picture of her recently was with my cell phone while she watched the birdies through her window.
This past weekend, Inkie got a new big sister - a Russian Blue from Bessie's neighbors who moved from their house into a no-cat apartment. Half Pint, the new kitty, is still in hiding at Bessie's, but I'll try to get a picture soon for a Blue Wednesday appearance here.
'Til I can get a pic of Half Pint, enjoy this rare one of Inkie.
~ NTM