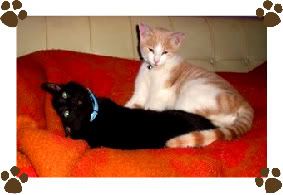 House Panther Maya's Bestest Friend Cleo went missing last weekend. Today, Maya's Mommy Penny writes
"Everybuddy!You guys must've purred very hard, because they found Cleo, safe and sound. Someone had picked her up in the street, thinking she was homeless, and took her home. But when her mommy started asking around the neighborhood, the people brought her back.
You guys are the best!Thank so much for all your purrs!"
Yay! We're so happy that Cleo is home safe and sound, and hope lots more pictures of Maya and Cleo playing together are coming! We ♥ ya, Cleo!