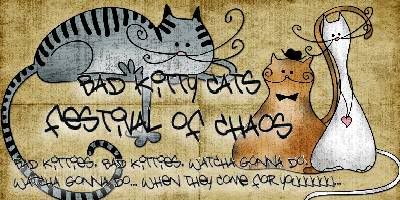 My Bean, my tabby brofur and I have been pulling a lot of Carnivals of late, but we are steppin' to host
Bad Kitty Cats Festival of Chaos #75
which did not have host for this week. It will be hosted HERE at House Panthers.
We will also be hosting
Carnival of the Cats
here - coming soon on January 25th for issue #254 and again in the fall on September 20th, for issue #289. (More hosts are needed if anyone want to volunteer.)
So make sure you get your badness on and get ready for Bad Kitty Cats Festival of Chaos this weekend. Be Naughty! Save Santa the trip!