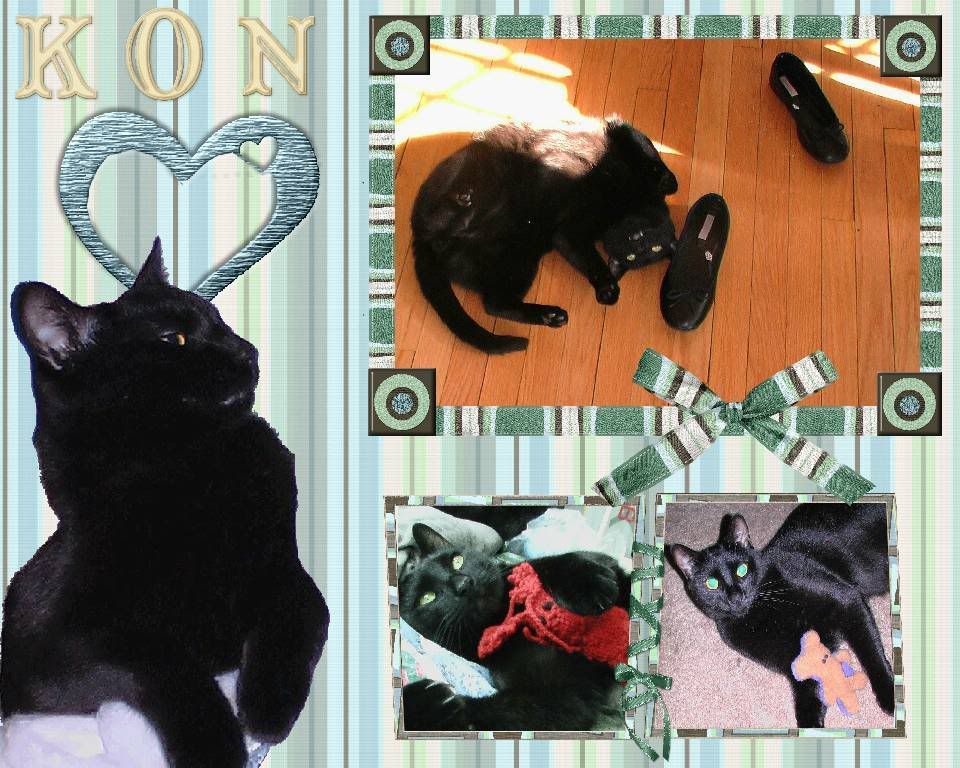 Click on image to bigify it. Image Info.
Kon is Sly's brother and best bud. While Sly has white on him, Kon is solid black.
He was originally named Congo, but they felt Kon suited him better, He loves cuddling, kicking around with (and kicking around) Sly, and chips. Kon loves chips!
Kon has is own blog at
No Chips for Kon
, but you'll find a lot of things about him on
Sly Likes Things
as well.
Sunday's Events at Cat Blogosphere
Easy Like Sunday Morning
Strolling Sunday
Spotty Sunday
Suddenly Sunday
Weekend Catblogging!

Find Weekend Cat Blogging #149 (Apr. 12-13) is being held at the Cat Blogospher with A Byootaful Life, HotMBC and Kashim and Othello.

Bad Kitty Cats Festival of Chaos #40 (04-13-2008) with Astrid, Kashim, & Othello at The Catboys Realm.
Optional Theme - Friends
(submit your post here)
The Carnival of the Cats #213 (4/13/08) is being hosted by Mr Tigger at the M-Cats Club
(submit your post here)
Purrs and Purrayers needed
Ruis just reported that sweet
Miral
went to the Rainbow Bridge today. She was found when they returned this afternoon, apparently had been sleeping.
Also, please purr and pray for Mu shue, Lilly Lu and Iris, and for all the pets and beans who might be trapped in the building that was on fire, and for the families and friends who must wait and watch.
NEW GIZZY QUILT RAFFLE FOR MOM LAURA at CFHF
Millie's Mom is donating a Gizzy Quilt for this Raffle. Thanks Millie's Mom!
If you prefer to donate direct to Mom Laura,
CFHF has her button to donate to her here.
It's a direct donation button to her own PayPal account, the same one that is on Lilly Lu's blog. When you donate, it says for Lilly Lu's vet bills, but we understand she may have to have some basics just now, since she's lost her home.
Also
The Cat Realm
is holding a raffle to benefit CFHF, you have to enter by Monday, April 14.
Beau
is holding a Squillon Auction to benefit Lilly Lu and Moki. There are 4 adult squillions and 5 kitten squillions available.
A Cat's Dictionary
Aquarium: interactive television for cats.
Cataclysm: any great upheaval in a cat's life.
Catatonic: a feline medicinal drink.
Caterpillar: a soft scratching post for a cat.
Cat Scan: to look for a new cat.
Dog: a cat's device for running practice.
Im-purr-sonate: to act like the cat.
Purr-ade: an organized march of cats.
Purr-adise: the garden of Cats.
Purr-amour: a cat lover.
Purr-anoia: the fear that your cat is up to something.
Purr-aphernalia: a cat's personal belongings.
Purr-ch: any favored feline napping spot.
Purr-chase: anything bought for a cat.
Purr-fume: the scent of an open can of tuna.
Purr-gatory: a houseful of kittens.
Purr-mission: a feline hunting expedition.
Purr-petual: everlasting feline love.
Purr-plex: a house with two or more cats.
Purr-son: a male kitten.
Purr-suit: the garment your shedding cat rubs against just as you are leaving home to go to an important meeting.
Purr-verse: a poem about a wicked kitty.
Tuner: sonar-like device in cat food that causes cats to appear.
Yawn: a cat's honest opinion openly expressed
Want to join House Panthers? Our membership is open to members of the black, grey (Russian Blue) and dark brown (Bombay) clans. Ask Not the Mama to e-mail you an invitation!
Don't Forget! Monday is Midnight Monday here at House Panthers! Show off your beautiful black coat!
Tuesday is Black Tabby Tuesday for all you black tabbies out there, Wednesday is Blue Wednesday for our Russian Blue members,Thursday is Grrday, and Friday is Formerly Feral or Foster Friday.
Find a new friend at Petfinder.com, the temporary home of 245,845 adoptable pets from 11,827 adoption groups. Over 9,000 house panthers are available around the country!