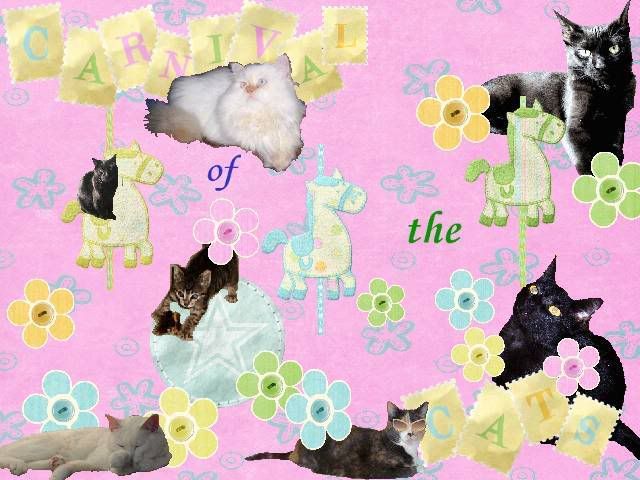 House Panthers is hosting The Carnival of Cats this weekend!
Please help us make this carnival a great success by submitting your post to the Carnival!
(Submit your post here!)
Saturday's Events at Cat Blogosphere
Saturday is Caturday with the cats at Coats of Many Colors.
It's also Photo Hunt day. This week's theme is "Unique/Funny Signs".
Camie's Kitties
wrote: Daisy's knock knock joke with Pixie gave us a great idea for a fundraiser. For everyone who posts a knock knock joke on their blog with a picture on Thursday, May 1st, we will donate $0.50 to MuShue, LillyLu and Iris. We will put up Mr. Linky on our site, so make sure you stop by to let us know you have done it so we can stop by your blog. Thanks, Tiki, Tavi, Cody and Camie
Need a Knock Knock Joke?
Knock Knock Jokes
has the biggest collection of Knock Knock jokes on the internet!
Digital Camera Raffle
at CFHF!
Chance to win a digital camera that sells at Amazon for $465.99 AND you can help Cat Friends Helping Friends pay for the fees with the IRS to become an official 501(c)(3) charity. More
info here
or go straight to the
Raffle
.
Want to join House Panthers? Our membership is open to members of the black, gray (Russian Blue) and dark brown (Bombay) clans. Ask Not the Mama to e-mail you an invitation!
Don't Forget! Monday is Midnight Monday here at House Panthers! Show off your beautiful black coat!
Tuesday is Black Tabby Tuesday for all you black tabbies out there, Wednesday is Blue Wednesday for our Russian Blue members,Thursday is Grrday, and Friday is Formerly Feral or Foster Friday.
Find a new friend at Petfinder.com, the temporary home of 245,845 adoptable pets from 11,827 adoption groups. Over 9,000 house panthers are available around the country!