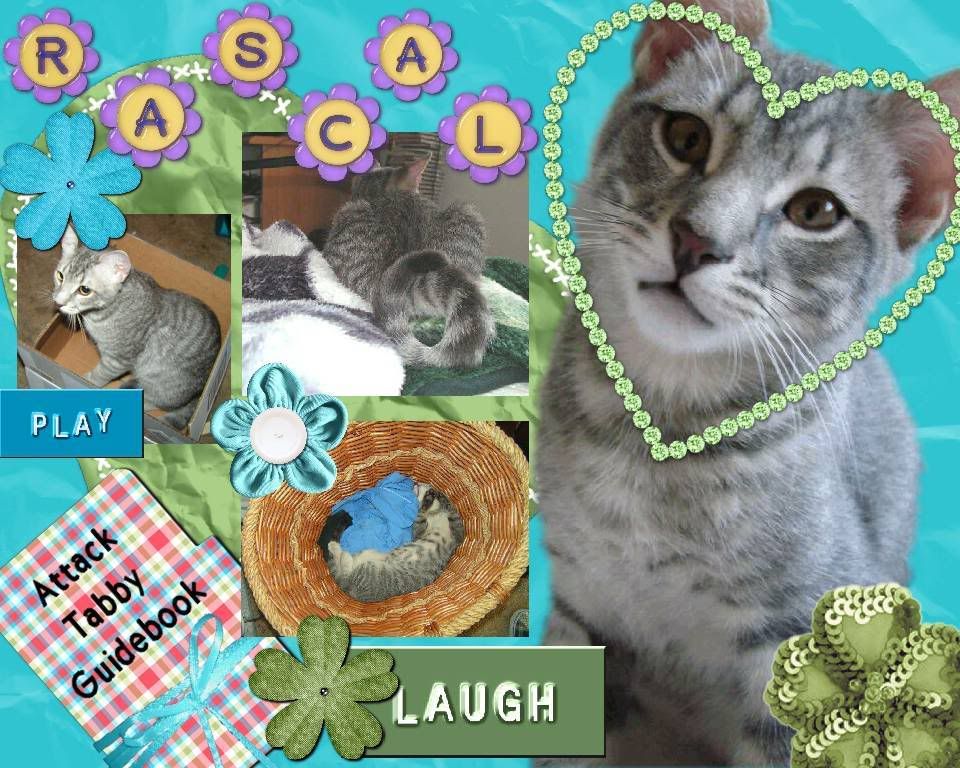 Click the image to Bigify it. Image Info.
Rascal is Riley's brother, one of the two kittens that were adopted together by
Grr, Midnight and Cocoa
after they were found abandoned in a park at the end of August, apparently on the day they were born.
Concatulations to Rascal on being our featured Panther for today!
Tuesday's Events at Cat Blogosphere
Tattle Tail Tuesday or other kind of tails, or tales as well
Tabby Tuesday for all Attack Tabbies (or other sorts of tabbies)
Tuxie Toosday for all Tuxedo Cats at the Tuxedo Gang Hideout
Tummy Tuesday for showing off all those kitty tummies
Toesies Tummy for showing those claws…errrr… toes
Tortie Tuesday with Tough A** Torties Club
Cats on Tuesday

AND NOW: Black Tabby Tuesday on House Panthers!
New Panther on the Prowl!
And this one's a beauty! Zoe of
Smudge and Zoe
has a new little brother and he's a House Panther!
Head on over to Zoe's place and
meet INDY!
Another sign that the apocalypse is upon us:
The LOLCat Bible Translation Project is a wiki-based website set up in July 2007 by Martin Grondin, where editors aim to translate the entire Bible into "lolspeak", the pidgin popularized by the LOLcat Internet phenomenon. As with any wiki, the project relies on its contributors to translate passages. As of 27th March 2008, approximately 60% of the text has been translated, and Grondin has stated that he hopes the entire New Testament will be complete by the end of 2008.
The style of writing employed by translators varies, but the most devoted contributors have been described as those who utilize as many gags and themes used in the different lolcat images. Certain words and phrases have a common equivalent used; God, for instance, is portrayed as "Ceiling Cat", and people portrayed as kittens ("kittehs").
The project has been praised by Ben Huh, the owner of the website icanhascheezburger.com which popularized lolcats, who stated that the LOLCat Bible has inspired other religious texts to be translated into the pidgin, such as the Koran, and that it has made clear that "the ability to publish is now open to anyone".
Sample of style (sourced from chapters deemed by the site to be of "Final Draft" quality):
15 "Okays den. Kittehs, u keeps praysin da Ceiling Cat, and tells othar kittehs u frindz wit him. 16 Dont furget! U gotta do niec tings fur othar kittehs, and share ur cheezburgers and stufz wit kittehz who have nun. Dis maeks Ceiling Cat real happys.

- Hebrews 13:15-16
Where can you find it?
www.lolcatbible.com
.
No Foolin'! Win a FURminator!
If you haven't been FURminated yet, you don't know what your missing. It gets all the extra loose hair out of your coat, gets all the itchy places scratched good AND makes your coat incredibly soft and silky.
PetsitUSA.com is giving away a FURminator. Two FURminator packages will go to cats and two to dogs.
Visit their contest page to find out how to sign up!
Good luck and happy deShedding! Contest ends April 11th, so don't delay!
Want to join House Panthers? Our membership is open to members of the black, grey (Russian Blue) and dark brown (Bombay) clans. Ask Not the Mama to e-mail you an invitation!
Find a new friend at Petfinder.com, the temporary home of 245,845 adoptable pets from 11,827 adoption groups. Over 9,000 house panthers are available around the country!
HAPPY APRIL FOOLS' DAY!