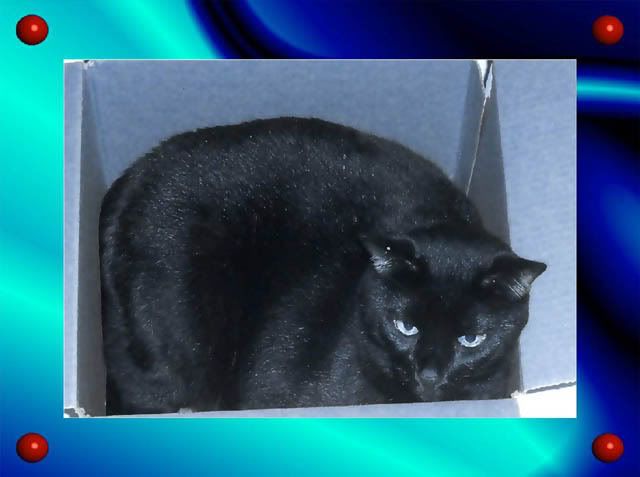 This is Merlin one of the mancats of The Fluffy Tribe, feeling a little blue and boxed in. The photo was edited in Photosuite, and the frame was from that collection as well.
Saturday's Events at Cat Blogosphere
Saturday is Caturday with the cats at Coats of Many Colors.
It's also Photo Hunt day. This week's theme is "different."
(As in I need to download some different geegaws for Digital Scrapbooking purposes.)
Weekend Catblogging!

Find Weekend Cat Blogging (#144 Mar 8 & 9) with Pet and Tiggerr at Pet's Garden Blog

Bad Kitty Cats Festival of Chaos #35 03-09-2008 with Astrid, Kashim & Othello at The Catboys Realm
Optional Theme - LOL Cat Edition
(submit your post here)
The Carnival of the Cats #208 3/09/08 is being hosted by Rocky at Artsy-Catsy
(submit your post here)
Whisker Smarts:
There are roughly 12 mystacials (upper lip whiskers) on each side of your muzzle, mostly for navigation.
Superciliary (above the eyes) and genal (cheek) whiskers trigger protective eye blinks and warn of danger.
Carpal (wrist) whiskers help capture prey and aid in climbing.
Whisker Follicles embed three times deeper beneath the skin than normal hairs.
Churchill's Mombean had asked about bathing him, so starting on Monday, we will begin a five part series on the correct way to take a B-A-T-H when it involves the wet water stuff.
Exciting Times!
Meowers of Missouri
have completed The Catstitution. You can find it at
The World Catstitution
blog.
Be sure to ratify - or is that catify - it by leaving your pawprint in the comment section if you have not done so already!


Remember to Spring Forward tonight as Daylight Savings time begins at 2:00 AM Sunday morning. Also remind your humans, because their internal clocks will be totally off for the next week.

Also don't forget to vote in the Simply Siamese
Spring has Sprung
contest. Voting closes tonight, the winners will be announced on Sunday. There are a number of auctions and raffles closing tonight as well. Visit
Cat Blogoshere
to find out who, what and where.
Want to join House Panthers? Ask Not the Mama to e-mail you an invitation!
Don't Forget! Monday is Midnight Monday here at House Panthers! Show off your beautiful black coat!
Find a new friend at Petfinder.com, the temporary home of 245,845 adoptable pets from 11,827 adoption groups. Over 9,000 house panthers are available around the country!